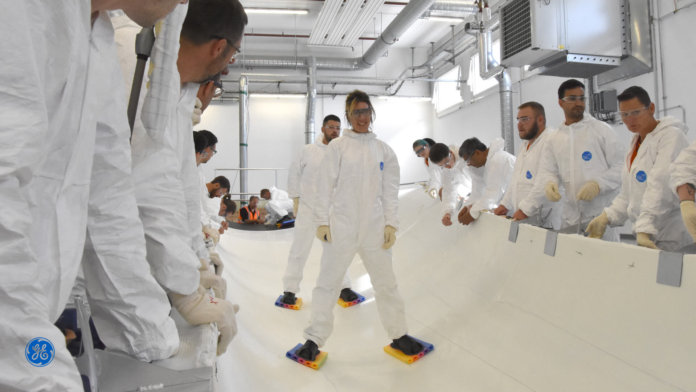 GE Renewable Energy recently confirmed the completion of its recruitment plan for 2018 at LM Wind Power's offshore wind blade manufacturing site in Cherbourg, France. The site today counts more than 100 employees, 34% of whom are women.
On Sept. 10, the first group of 30 newly hired employees, from all functions, participated in the launch of the factory's Center of Excellence training center. New employees participated in a one-week theoretical class, followed by a week of practicing on an actual piece of a wind turbine blade mold.
After completing the Center of Excellence course, each trainee left Cherbourg to spend a month abroad in other LM Wind Power sites – including in Spain, Denmark, Poland and Canada, depending on the job scope. Employees from LM Wind Power sites around the globe will also travel to Cherbourg to support the ramp-up of the factory. The second group started their training program on Oct. 22.
"The Cherbourg site is a great location to support the development of the offshore wind industry in Europe and beyond, with a positive impact on the jobs and the ecosystem in the surrounding region. We are investing in building a strong and sustainable value chain and are happy to welcome the first hundred recruits," says Alexis Crama, LM Wind Power's offshore wind vice president.
The construction of the factory is on track to start the prototyping phase in January. The first blade produced will be shipped to ORE Catapult Research & Development Center in Blyth, U.K., for indoor testing. The three next blades produced will be installed on GE's Haliade-X 12 MW prototype at the end of the second quarter of 2019 at a yet to-be-determined site.