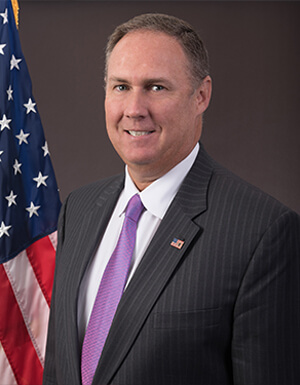 Robert F. Powelson, a commissioner of the Federal Energy Regulatory Commission (FERC), has announced his resignation to become president and CEO of the National Association of Water Cos.
Powelson, who will be leaving his post in mid-August, was nominated as commissioner by President Donald Trump in May 2017 and confirmed by the U.S. Senate in August 2017. He previously served at the Pennsylvania Public Utility Commission beginning in June 2008, including as chairman from February 2011 to May 2015.
"I express my gratitude to President Trump for nominating me and to the members of the United States Senate who confirmed me," he says in a statement. "I thank my colleagues for their steadfast commitment to FERC's mission, members of the public who help inform our decisions, and the staff at FERC for their dedication and support throughout my time at the commission, especially the members of my office. It has been the honor of a lifetime to serve our great nation as a FERC commissioner."
Regarding the departure's possible impacts on the U.S. Department of Energy (DOE) and the renewable energy market, Jason Johns, a partner at law firm Stoel Rives, expresses concern:
"The default topic for discussion in this situation, with Commissioner Powelson having spent less than a year at FERC, is his notably short tenure at the agency, but we should also consider the impact of his departure on the Department of Energy's efforts to compensate specific resources for their 'resiliency,'" Johns explains.
At the beginning of the year, in a move applauded by renewable energy groups, FERC terminated its consideration of a DOE grid proposal that many feared would have been a bailout for coal and nuclear. DOE Secretary Rick Perry had proposed that FERC take "swift action to address threats to U.S. electrical grid resiliency." Specifically, following the release of the DOE's controversial grid study, he had urged the commission to issue a final rule requiring its organized markets to "develop and implement reforms that would fully price generation resources necessary to maintain the reliability and resiliency of our nation's grid," the DOE said.
At the time of FERC's announcement to ax the proposal, Johns suggested that the commission "seem[ed] intent on not arbitrarily tinkering with market forces, refusing in this instance to prop up uneconomic coal and nuclear facilities using payments for loosely defined and controversial characteristics." Rather, he said, FERC "reaffirmed its support for markets and market-based solutions, acknowledging that sometimes the market compels retirements simply because a technology has become uneconomic."
Now, however, Johns warns, "Commissioner Powelson has publicly opposed any efforts to disrupt the wholesale energy markets, and his departure creates an opportunity for the White House to increase support for the 'resiliency' proposal at FERC."
In response to the resignation, Mary Anne Hitt, senior director of the Sierra Club's Beyond Coal campaign, notes that "FERC itself needs a massive change."
"The next commissioner must be a strong advocate for considering climate change in FERC's decision-making process, curtailing the dangerous overbuilding of fracked gas pipelines, and stand firmly against reckless coal and nuclear plant bailouts the Trump administration and grid operators are proposing," she says in a release. "We are closely monitoring the situation and stand ready to fight for a better replacement that will help fix FERC by showing a real commitment to public participation and protecting the public interest."