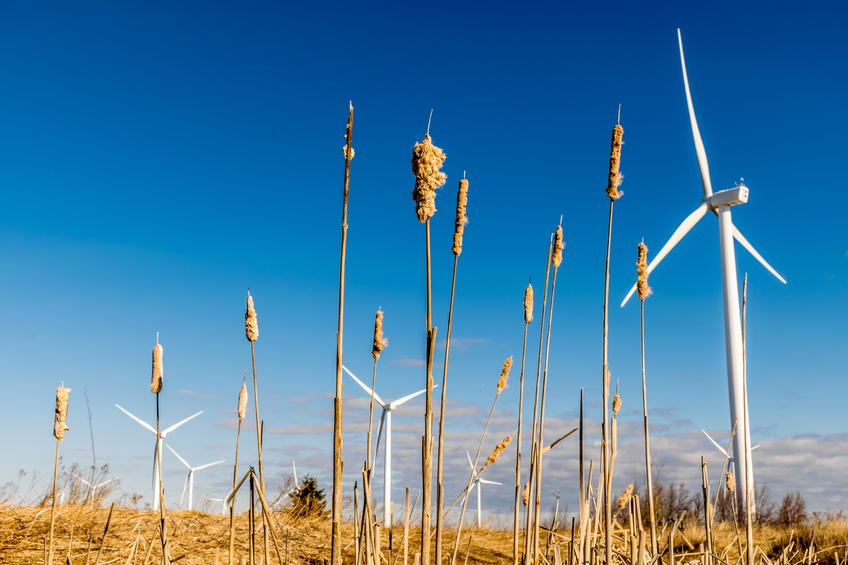 EDF EN Canada Inc. says it has divested 15% of its undivided interests in the 350 MW Riviere-du-Moulin Wind Project – the largest wind energy facility in Canada under a single power purchase agreement, the company asserts – and that the interests have been acquired by the Regional County Municipality (RCM) of Charlevoix and Fjord-du-Saguenay (5%); the Innu of Mashteuiatsh and Essipit First Nations (5%); and the Huron Wendat Nation (5%).
According to EDF EN, the company will maintain a 42.5% ownership position in the project and provides management services. EDF Renewable Services will continue to provide a portion of the operations and maintenance service, as well as 24/7 remote monitoring from its Operations Control Center.
The wind project – located in the unorganized territory of Lac-Pikauba, in the RCM of Charlevoix, and the unorganized territory of Lac-Ministuk, in the RCM of Fjord-du-Saguenay – achieved commissioning in two phases: 150 MW in November 2014 and 200 MW in November 2015, EDF EN Canada says.
In addition, the company notes that the project employed over 585 workers during peak construction, with an investment of approximately $800 million.
"The RCM Fjord-du-Saguenay has supported the Riviere-du-Moulin wind project since the first steps of its development phase, and we are very pleased to see that all of our efforts will create revenue from harnessing the power of our wind. These profits will be invested in the territory to put in place projects that will boost our economic development," says Gerald Savard, prefect of the RCM of Fijord-du-Saguenay.
Claudette Simard, prefect of the RCM of Charlevoix, adds, "The results of our efforts will contribute to the sustainable development of Quebec, in addition to supporting the development of our territory."
EDF EN Canada also purports that the Riviere-du-Moulin Wind Project is the largest of eight wind energy projects awarded to the company in 2008, 2010 and 2013 through Hydro-Quebec Distribution call for tenders.