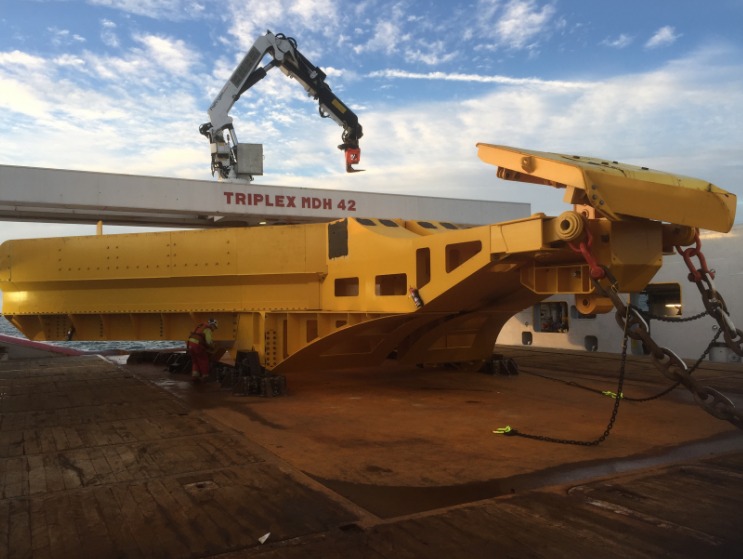 Ecosse Subsea Systems (ESS) says it has completed a second major seabed clearance project on behalf of DONG Energy on what will be one of the world's largest offshore wind farms.
According to the Scottish subsea technology specialist, it cleared more than 3,000 boulders at the site of DONG Energy's 573 MW Race Bank Offshore Wind Farm, located off the Norfolk and Lincolnshire coast.
Race Bank will consist of 91 turbines of 6 MW each and generate enough electricity to power more than 500,000 homes. The contract, worth 5 million British pounds, followed the successful completion of a similar project by ESS on DONG Energy's Westermost Rough Offshore Wind Farm.
ESS teams mobilized several vessels in two campaigns, including the Siem Topaz and Siem Sapphire, on a multiphased workscope, which lasted approximately 175 shipping days.
ESS says it deployed the latest version of its SCAR 2 Seabed System, a multipurpose plough capable of boulder clearing, trenching and various seabed route preparation works, while a Multi-Function ROV grab was used to remove boulders and debris that were more sparsely located or situated in awkward positions.
According to ESS, the boulder-clearing took place across the export corridor, array cable routes and turbine locations, with 30-meter-plus clearance corridors created using multi-pass capability.
ESS' commercial director, Keith McDermott, said, "With our SCAR Seabed System, we have set the standard for technology, which is reliable and robust in the delivery of fast and efficient seabed clearance projects. We were working in some very difficult environmental conditions and with a variety of soil conditions, and the SCAR proved its worth on both counts.
"We are constantly reviewing SCAR to introduce improvements, which bring savings to the client, and this latest version SCAR 2 has a 15-meter-wide capacity compared to earlier 10-meter models," he added.
"We have built up a wealth of experience in the renewables sector, and the SCAR Seabed System is a pioneer in seabed and cable route preparation workscopes. We are targeting a number of planned European wind farm projects where we think ESS can add value to the construction phase," McDermott concluded.