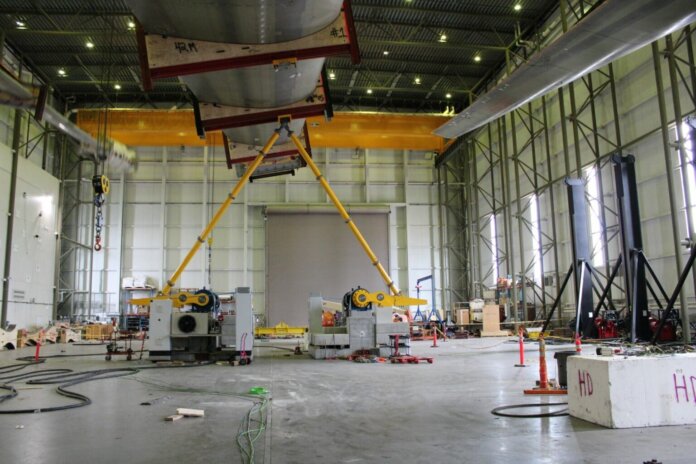 Massachusetts Clean Energy Center's (MassCEC) Wind Technology Testing Center (WTTC) has taken delivery of the world's largest dual-axis blade exciter from Danish engineering company R&D Test Systems.
New and larger wind turbines have been developed more quickly than could be imagined. The supply chain needs to be ready and predict what the OEMs need next to keep up the development and limit the time-to-market.
To accommodate this, the WTTC, which performs large wind turbine blade testing, ordered a new test bench with the size and power to test the next generations of wind turbine blades. This purchase was funded in part by a $4 million dollar grant from the United States Department of Energy and MassCEC. The aim is to upgrade the blade-testing equipment to accommodate the new and longer blades for the larger offshore turbine models.
With the new test bench from R&D Test Systems, WTTC has the possibility to perform dual-axis testing, allowing more realistic test loads and results. The new full-scale multi-axis fatigue blade test system will also shorten the test time, as WTTC can use the same setup to test flap- and edge-wise fatigue.
In 2021, R&D Test Systems built the first dual-axis blade exciter for the Danish Blade Test Centre A/S (Blaest). Since then, the company has worked toward developing an even larger test bench for WTTC.
The new dual-axis exciter is approximately 40% larger in size and force and is able to apply 240 kN into the blade with an excitation power of 420 kW, enabling the test system to test blades up to 427 feet long.
The blade exciter consists of two units that can deliver individual force and power up to 120 kN and 210 kW, respectively. Software allows users to configure the test system for a variety of scenarios that closely simulate what the blades are exposed to offshore. The two units can be used in combination for parallel or dual-axis operation or separately on other test areas.