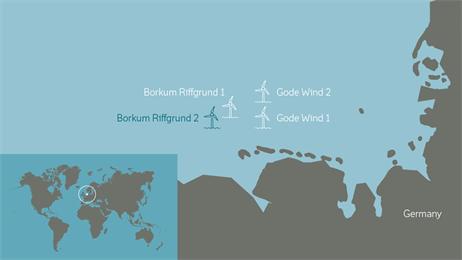 DONG Energy has decided to build German offshore wind farm Borkum Riffgrund 2, expected to be fully commissioned in the first half of 2019.
With this decision, DONG Energy will reach 6.7 GW of installed offshore wind capacity and exceed its 2020 target of 6.5 GW.
Borkum Riffgrund 2, with a total export capacity of 450 MW, will feature what DONG says will be the largest wind turbines in German waters: 56 units of MHI Vestas' 8 MW units with rotor spans of 164 meters. The project will supply power equivalent to the annual electricity consumption of approximately 460,000 German households.
DONG Energy is the sole owner of Borkum Riffgrund 2. In accordance with its partnership model, the developer intends to divest up to 50% of the project at a later stage.
Borkum Riffgrund 2, located 54 kilometers off the coast of Lower Saxony, will be situated next to one of DONG Energy's other wind farms, Borkum Riffgrund 1. For the first approximately 10 years of the project's production, DONG Energy will receive a fixed price per kilowatt-hour of electricity produced.
DONG Energy was granted a consent for building the project back in December 2011. However, this consent needs to be amended to accommodate the deployment of the larger, 8 MW turbines.
"With Borkum Riffgrund 2, we'll start the construction of our fourth offshore wind farm in Germany," says Trine Borum Bojsen, country manager of DONG Energy's German wind power division. "After completion of Borkum Riffgrund 2, DONG Energy will have installed approximately 1.35 GW of offshore wind in German waters and supply power to 1.4 million households."