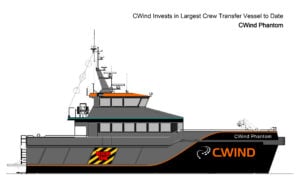 CWind, a provider of services to the offshore wind industry, has invested in its largest crew-transfer vessel to date: a 27.4-meter-long catamaran that can hold 20,000 liters of fuel and 20 tons of cargo.
Suited for long stretches of work at wind farms located further from the shore, the new CWind Phantom can carry up to 12 passengers (with berths for eight people). Air-conditioned and heated, it offers amenities required to remain at sea for extended periods, including a dedicated meeting space, says CWind.
In addition, an on-board crane can lift 1.1 tons at a 5-meter outreach. The jet-driven vessel is powered by two MAN D2862 main engines and is capable of reaching a maximum speed of 27 knots.
CWind took ownership of the vessel on Feb. 1. Following a mini-refit, the CWind Phantom will be available to start work on March 1.
"There is currently significant demand for vessels with the ability to work further offshore, and we are already seeing client interest in the CWind Phantom," comments Lee Andrews, managing director for power at CWind. "Ultimately, this investment enables us to provide a more integrated offering for both the construction and operations and maintenance phases of an offshore wind farm project."
CWind's fleet now totals 18; the company also has access to additional cable installation and maintenance vessels via its parent company, Global Marine Systems Ltd.