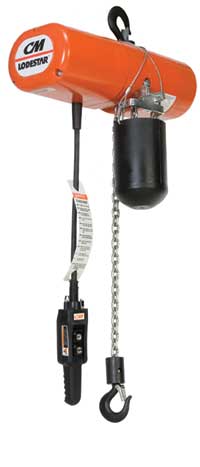 Amherst, N.Y.-based Columbus McKinnon Corp. has announced that its CM Complete Lifting Systems division has developed two wind turbine hoists with specific long-lift electric hoist characteristics. CM Complete Lifting Systems took the existing CM Lodestar and CM Shopstar and adapted the designs to specifically create service hoists for wind turbines.
According to the company, the CM wind turbine hoists offer better control as long lift electric hoists with a two-speed motor that provides smooth, slow-speed starts and stops or a faster speed for load transition. A precision machined and hardened liftwheel provides smoother operation and significantly reduces chain vibration.
The hoists are also equipped with overload protection that prevents lifting more than rated capacity – protecting operators and equipment. Downtime is minimal because parts are readily available from authorized distributors and no special tools are required for disassembly.
For more information, visit cmindustrial.com
SOURCE: Columbus McKinnon Corp.