China continues to lead the world in Ernst & Young's renewable energy attractiveness indices, which scores 40 countries on the attractiveness of their national renewable energy markets, energy infrastructure and suitability for individual technologies.
China's top spot can be attributed to its ambitious capacity targets for this year and an increase in outbound investment. Germany remains in second place as its government proactively expands the country's grid infrastructure, but the country's announcement in January to freeze the consumer levy for renewable energy will put the sector under pressure going forward.
The U.S. came in third place, thanks to the federal government's extension of – and change of language in – the wind energy production tax credit.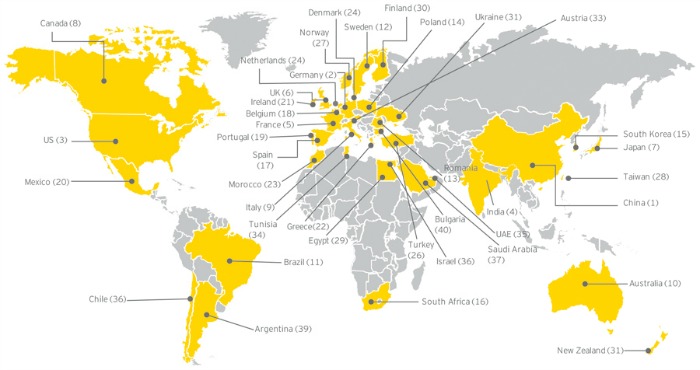 The rising stars in the report include South Africa, which has overtaken Spain for 16th place, after contracts for 28 renewable energy projects – totaling 1.4 GW of capacity – were signed under the first round of South Africa's national procurement program last year. This paves the way for construction to start this year and reinforces the government's support for clean energy, thus increasing the country's attractiveness to investors and developers globally, Ernst & Young says.
As part of its target to install 4 GW of wind and solar capacity by 2020, Morocco's government agreed to a $1 billion power purchase agreement (PPA) for the first 160 MW phase of its flagship Ouarzazate solar plant in the fourth quarter of 2012. The country also announced plans for an additional 400 MW to 500 MW solar tender in 2014, resulting in a two-place jump in the rankings, to 23rd.
Chile moved up two places to 36th, as the country seeks bids to build South America's largest solar plant in the Atacama Desert, funded by a combination of government grants and loans totaling $429 million. In addition, other high-profile international players received approval for various wind and solar projects, including a 108 MW wind project by Australia's Pacific Hydro and a 70 MW solar farm by Ireland's Mainstream Renewable Power Ltd.
Clean energy investment
Global clean energy investment in 2012 fell by 11% from the record level seen in 2011 to $268.7 billion, with only China, Australia and Mexico seeing an increase in total investment, according to Bloomberg New Energy Finance.
Despite the challenges of a weak global economy, the outlook for 2013 is more positive with the trend of divestment and portfolio restructuring set to continue, generating a robust transaction environment this year.
"As debt pressures still hang over many European utilities and U.S. utilities seek to rebalance their holdings in favor of regulated businesses, further divestments will continue to create transaction opportunities across the whole sector in 2013," says Ben Warren, Ernst & Young's energy and environmental finance leader. "It is anticipated that capital will continue to flow from Asia and from a wide range of institutional investors, including pension funds, sovereign wealth funds and even high-profile corporations."
Solar represented the biggest proportion of new investment in 2012, reflecting a period of consolidation that is likely to continue this year, as the market adjusts to oversupply, falling prices and trade protectionism measures across the global market.
Although investment in the global wind energy sector fell during 2012, offshore wind is likely to be a key growth area for investment and transactions this year, Ernst & Young says. The increasing maturity of the sector is attracting a diverse investor base, including industrial conglomerates, private equity groups, pension funds and private-sector corporations, the report notes.
The end of 2012 also saw a particularly interesting development for offshore projects in the North Sea, with Munich RE becoming the first insurance group to offer serial loss coverage for the repair or replacement of defective turbines or components. This is expected to reduce the perceived risk profile of the technology more broadly, boosting investor security and facilitating the financing of major offshore projects.

What to expect this year
Looking forward, the combination of declining renewable energy technology costs and the need to manage corporate risks – such as energy price volatility and energy security – will drive more corporations around the globe to develop and implement renewable energy strategies. These strategies will result in a growing share of renewable energy within the corporate energy mix, according to Ernst & Young.
The increased deployment of renewable energy will also have an impact across other areas of the power sector, with a lack of investment in infrastructure becoming a recurring issue. Countries such as China, India, Germany and Denmark are battling with aging or capacity-constrained grids and the balancing issues from increasing intermittency. In Europe, there is also a drive toward a policy commitment to strengthen the single energy market in order to avoid the risk of a fragmentation into 27 national systems.
"The power market as a whole is starting to see significant infrastructure deals; however, there needs to be increased investment to address the infrastructure challenges hindering the deployment of renewables, such as grid constraints and the lack of capacity markets and cross-border interconnections," Warren says. "We expect to see increased transaction and financing activity across these areas in 2013, as part of the wider global investment in a low-carbon economy."
Image credit: Ernst & Young