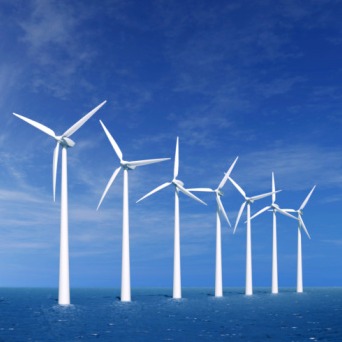 Since being selected in May by the U.S. Department of Energy (DOE) as recipients of follow-up funding for advanced technologies, Dominion Virginia Power, Fishermen's Energy and Principle Power have been working feverishly to partner with vendors, pursue state and federal permits, and obtain financing to grid-connect their offshore wind demonstration projects by the end of 2017.
The demonstration projects will go a long way in proving that offshore wind can be viable in the U.S., according to Gregory M. Matzat, the DOE's senior advisor for offshore wind technologies. Matzat joined the three project developers in a panel discussion at the American Wind Energy Association's recently concluded 2014 Offshore Wind Conference and Exhibition, held in Atlantic City.
The DOE, which is providing up to $46.7 million to each recipient over four years to complete the projects, selected the demonstration projects based on their ability to innovate as well as cut costs. When providing project updates for attendees, the offshore wind companies revealed that each firm is in a different stage of development.
For example, Fishermen's Energy has all the state and federal permits needed to build the project, while Dominion and Principle Power do not. Just the same, by basing its design on a prototype that is already operational, Principle has a leg up on Fishermen's and Dominion.
Irrespective of where each company is in the process, "it's about getting steel in the water," said the DOE's Matzat, who moderated the panel discussion. "[The projects] will open the door to offshore wind in this country."
Because no U.S. offshore wind projects are built yet, many observers will be watching the success of these early demonstration projects. The companies, themselves, also stand to benefit: They can apply the lessons learned to future endeavors.
"We're cutting our teeth with the two turbines," Robert Hare, senior business development manager at Dominion Resources Services, told conference attendees. "We want to apply the lessons learned here on larger projects."
Dominion Virginia Power, which will install two Alstom 6 MW direct-drive wind turbines 26 miles off the coast of Virginia Beach, is still in the vendor procurement process, Hare explained, adding that the company recently put out a request for proposals for an engineering, procurement and construction provider to build the project.
Before construction can begin, however, Dominion needs the approval of Virginia's State Corporation Commission, which Hare expects by the third quarter of 2016.
Hare informed the audience that the project team, which includes Alstom and Tetra Tech, has started (or completed) various geotechnical and environmental reviews, such as those under the National Environmental Policy Act, needed to build the project.
Like Dominion, Fishermen's Energy is also vying to build a demonstration project, with its wind farm planned 2.8 miles off the coast of Atlantic City.
"The site for our project is located over there," said Chris Wissemann, Fishermen's Energy CEO, at the Atlantic City conference.
Fishermen's project aims to use an alternative to traditional monopile foundations, Wissemann explained. The Inverted Battered Guide Structure (twisted jacket) uses less steel and, therefore, reduces costs by 8% than traditional offshore wind foundations, he added.
Nonetheless, the viability of the Fishermen's project depends on getting approval from the New Jersey Board of Public Utilities – a tall hurdle considering that the developer remains locked in a stalemate with the BPU on using offshore wind credits to finance the project.
As the lone DOE-approved developer on the West Coast, Oregon-based Principle Power plans to build its WindFloat project in federal waters and is, therefore, working through the Bureau of Ocean Energy Management's approval process, noted Alla Weinstein, the developer's president and CEO.
Principle Power – with the aid of Providence-based Deepwater Wind – will install 6 MW direct-drive wind turbines approximately 18 miles off the coast of Coos Bay, Ore. Selected by the DOE for demonstrating innovation in great water depths and eliminating the need for specialized ships, the WindFloat semi-submersible floating foundation will be installed in water depths exceeding 1,000 feet. (Deepwater Wind agreed in principle to develop the WindFloat project and own it.)
Weinstein told attendees the biggest challenge will be in scaling up from Principle's 2 MW WindFloat prototype, which was installed in 2011 off the coast of Portugal. Whereas the prototype has a rotor diameter of 80 meters, the WindFloat turbines slated for Oregon will have a rotor diameter of 155 meters. The hub height will grow from 56 meters in Portugal to 100 meters for the U.S. version.
During her presentation, Weinstein noted that the proposed WindFloat project has received overwhelming local support in Washington and Oregon. Weinstein told attendees that some supporters – expecting to see turbines spinning from land – were disappointed that they would not be visible.
"Some don't want to see turbines from land. Some want to see the turbines from land. You can't please everyone. Maybe," she quipped.
For its part, Fishermen's Energy anticipates no such objectors at its site. In fact, Wissemann expects the project will be a boon for tourists, gamblers and curiosity-seekers.
"Atlantic City likes a spectacle," he said.