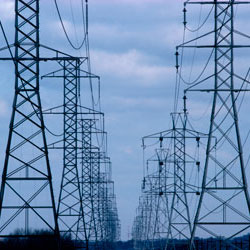 A key segment of the CapX2020 transmission project has been granted a facility permit by the South Dakota Public Utilities Commission (PUC). The Brookings County-Hampton 345 kV transmission line project begins at the Brookings County substation north of Brookings, S.D., and ends at the proposed Hampton substation southeast of the Twin Cities.
The Brookings line is important to wind development because it includes 19 wind projects from 14 developers.
'It's a line that's been identified in every planning scenario that we've seen – whether it's been done by [the Midwest Independent Transmission System Operator or by others – as a key backbone line for building this new grid, not just for Minnesota but for the Midwest,' Jamie Karnik, communications manager for Wind on the Wires, told NAW in April.
CapX2020 is a joint initiative of 11 investor-owned, cooperative and municipal utilities in Minnesota and the surrounding region to upgrade and expand the electric transmission grid. CapX2020's Group 1 projects include three proposed 345 kV transmission lines and a proposed 230 kV line.
The new infrastructure is expected to provide a foundation for the region's projected electricity growth, as well as connect to renewable energy sources in southern and western Minnesota and the Dakotas.
'The facility permit was the result of significant outreach to and input from local landowners and officials,' says Dan Lesher, project routing lead for CapX2020. 'The project balanced the needs for new infrastructure with the interest of landowners, agriculture, environmental issues and many other factors.'
The Minnesota PUC granted approvals for the project's certificate of need in 2009 and its route permit in 2010. The Minnesota route permit includes more than 240 miles of 345 kV transmission infrastructure, as well as the expansion of five existing substations and construction of four new substations.
In related news, the Minnesota PUC unanimously voted to grant a route permit for a 345 kV electric transmission line between the North Dakota border and St. Cloud, Minn. The line will connect at the Quarry Substation near St. Cloud to the CapX2020 Monticello-St. Cloud project currently under construction.
The Minnesota PUC approved a route that generally follows Interstate 94 from the North Dakota border near Fargo to the Alexandria Switching Station. From Alexandria, the line will continue east, mostly along Interstate 94, to Sauk Centre, where it heads south along county and township roads near Albany, Collegeville and St. Joseph to the new Quarry Substation west of St. Cloud.
The 28-mile Monticello-St. Cloud project is scheduled for completion in December. The Fargo-St. Cloud project, including a North Dakota segment, will be energized in 2015.