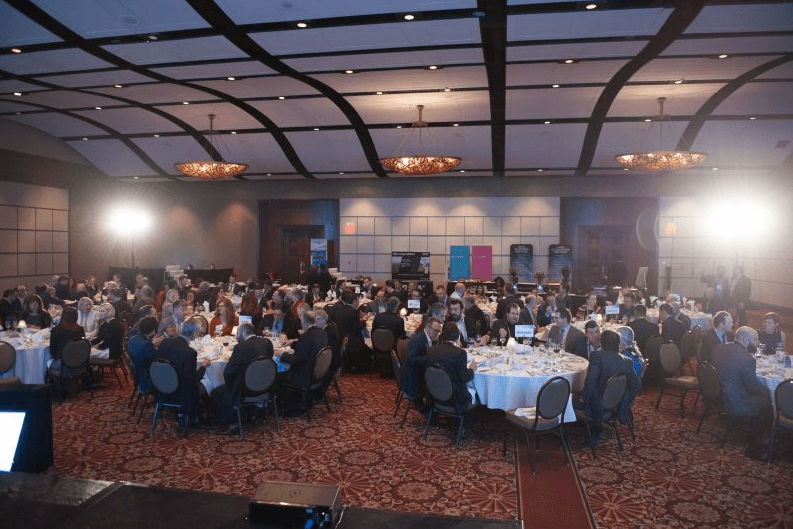 At the 32nd Annual Awards of the Canadian Wind Energy Association (CanWEA), which took place last night in Gatineau, Quebec, the association honored several industry leaders, innovators and supporters for their exceptional work on behalf of wind energy.
The 2017 award winners are as follows:
R.J. Templin Award: GE Energy Consulting
GE Energy Consulting led the team of expert, specialized companies that produced CanWEA's groundbreaking Pan-Canadian Wind Integration Study (PCWIS), which not only demonstrates how Canada can reliably and cost-effectively get more than one-third of its electricity from wind energy, but also provides utilities, system operators, policymakers and researchers with data they have never had access to before.
CanWEA says that during the three years it took to complete the PCWIS, GE showed strong leadership and a commitment to finding innovative solutions to tackle the challenges presented by the sheer size and complexity of the analysis.
Friend of Wind Award: Randy Hope, mayor of the municipality of Chatham-Kent in Ontario
Hope was first elected mayor of Chatham-Kent in 2006, and his commitment to sustainable economic development and job creation has made the municipality a wind energy leader.
Chatham-Kent receives $2.3 million a year in local taxes generated from green energy projects, as well as millions more through landowner lease payments and contributions to community benefit agreements. According to CanWEA, the work Chatham-Kent has done to attract green businesses to the area has helped bring new jobs, investment and economic diversification to the region.
Matt Holder Community Connection Award: Adam Rosso
Rosso has been directly involved in the planning and execution of nearly 1,500 MW of wind energy projects, guided by his belief that proactive and positive community engagement is the key to successful wind farm development. The First Nation groups and community organizations he has worked alongside recognize Rosso as someone who goes "above and beyond" to understand their unique needs and who is committed to fostering meaningful relationships built on shared goals and interests.
Rosso is the director of development at Boralex Inc., which noted that he distinguished himself during the development of the Niagara Region Wind Farm.
Individual Leadership Award: Jimmy Royer, former senior technical advisor for Natural Resources Canada
Royer retired from Natural Resources Canada in July 2016 after 14 years of working with the federal government. During this time, he played a key role in the development of policies and programs that have not only helped drive the rapid growth of wind energy in Canada so far, but also laid a foundation for its continued expansion.
According to CanWEA, Royer's accomplishments include the development and management of the federal renewable energy incentive programs that helped kick-start the industry in Canada, the creation of a database that will be used to develop sustainable energy solutions for remote communities, and the support for the Raglan Mine Wind Energy Project, a demonstration of wind and energy storage systems for off-grid mining operations.
Group Leadership Award: Government of Alberta
CanWEA says the Alberta government's plan to phase out coal-fired generation and add 5,000 MW of new renewable capacity to its grid by 2030 – starting with a 400 MW request for proposals this year – has made the province the leading market for new wind energy investment in Canada. Its efforts are expected to attract significant interest from investors from around the world, bringing billions of dollars in new investment to the province and supplying Albertans with new cost-competitive, emissions-free electricity.
The government has also taken the very important step of putting a price on carbon, sending a clear market signal that will nudge the province's economy toward greener, more diversified energy use.
Wind Energy Project Award: Bull Creek Wind Facility, BluEarth Renewables Inc.
BluEarth's 29.2 MW Bull Creek Wind Facility came online in 2015 and was the only wind project built in Alberta that year. Located near the town of Provost in the central part of the province, the project was able to move forward because of a power purchase contract with 25 rural school boards. According to CanWEA, the agreement was one of the first of its kind in Alberta, providing schools throughout the province with access to long-term, low-impact and affordable renewable electricity.
BluEarth is also working with the nonprofit organization Inside Education to develop renewable energy educational resources for Alberta classrooms.
"More wind energy has been installed in Canada over the past 11 years than any other generating technology. That's an amazing accomplishment – and one that would not have been possible without the vision, creativity and commitment of people like CanWEA's 2017 award winners," says Robert Hornung, president of CanWEA. "They have helped make wind energy the success story it is today, and we are honored to recognize and celebrate their contributions."