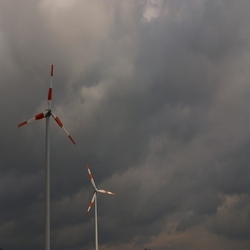 A decision issued by the Bonneville Power Administration (BPA) late last week could result in the curtailment of wind power but only as a last resort, the agency says.
BPA's interim Environmental Redispatch policy, which will remain in place until March 30, 2012, first limits generation at coal, natural gas and other thermal power plants to keep the supply of power from exceeding demand.
As a last resort, BPA's policy could temporarily limit wind energy generation connected to its power transmission system. Under the policy, BPA will replace any reduced thermal and wind generation with free hydropower from federal dams on the Columbia River system.
BPA says it will not reimburse wind producers for potential lost tax credits or other revenues if production is curtailed because that would shift costs to Northwest ratepayers who do not receive the wind power.
'We're fortunate in the Northwest to have extraordinary renewable hydropower and wind energy resources, but occasionally we have to adjust when nature gives us too much,' said Steve Wright, BPA administrator, in a press release. 'Wind remains an important part of our clean energy future and is growing quickly. This is an interim step, which appears unavoidable at this point, to keep the power grid in balance while the region develops long-term solutions.'
The decision was prompted, according to BPA, by high seasonal river flows resulting from runoff from large snowpacks. The Northwest River Forecast Center predicts this year will bring the highest Columbia Basin runoff volume since 1999. The conditions could temporarily push generation of hydroelectric power beyond the region's limited spring electricity needs.
Rep. Ed Markey, D-Mass., sent a letter to Energy Secretary Steven Chu earlier this month in which he expressed concern over BPA's curtailment plan.
'While these high wind/high water events occur relatively infrequently, this action, if implemented, would economically impact current facilities and could lead to the cancellation of future wind projects in the region,' he said in the letter. 'This would create enormous uncertainty at a time when the Obama administration is promoting increased investments in renewable energy technologies.'
The congressman also stated in the letter that an increase in renewable energy in the U.S. has presented integration challenges that need to be addressed by the U.S. Department of Energy.
BPA says it took several steps in order to avoid the need for the interim policy, including working with other agencies and utilities to maximize available reservoir space to manage river flows and control hydroelectric generation, and adjusting non-essential maintenance on transmission lines so that maximum capacity is available to carry large amounts of electric generation to distant markets from Canada to California.
The agency says it will monitor river conditions and lift any limits on power generation as soon as they are no longer needed.