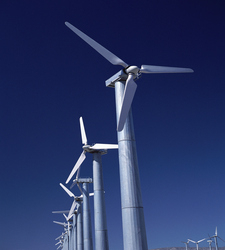 Over the past several months, the U.S. Department of the Interior's (DOI) Bureau of Ocean Energy Management, Regulation and Enforcement (BOEMRE) – the lead federal permitting agency for offshore wind – has aggressively stepped up its efforts to review and permit the first wave of offshore wind projects in the U.S.
The regulatory process for gaining the necessary approvals to construct and operate wind farms in federal waters generally three miles or more from shore has been slow to develop. However, the DOI and BOEMRE have recently taken steps to revamp and implement new permitting and leasing procedures to streamline and speed up the overall process.
The most significant change in the federal review framework was implemented under the Smart from the Start initiative, which the DOI announced on Nov. 23, 2010, as part of a broader effort by the Obama administration to expedite deployment of renewable resources on federal lands.
Under the initiative, the DOI adopted a new, streamlined approach to lease issuance by deciding to identify potential lease areas, known as wind energy areas (WEAs), and to issue leases in the WEAs upon BOEMRE's completion of regional environmental assessments (EAs) under the National Environmental Policy Act (NEPA), a far less time- and resource-intensive process than developing full-blown environmental impact statements (EIS).
Only after BOEMRE issues an individual lease would it prepare an EIS to evaluate the specific environmental impacts of the actual project to be constructed and operated on the leased site. The importance of this new procedure cannot be overstated, because eliminating the need for an EIS at the leasing stage should shave years off of the current permitting time frame.
In addition to this sweeping change, BOEMRE also revised its regulations in a Final Rule issued on May 16 regarding the notice requirements in cases where the agency receives an unsolicited request from a developer to lease blocks of land that are not covered in the WEAs.
Under its prior rules, BOEMRE would issue multiple notices upon receiving an unsolicited request for a lease in order to first determine and then reconfirm whether there was any competitive interest in the identified leasing area.
BOEMRE now has eliminated this second, redundant notice requirement and will instead rely on a single request for interest (RFI) to determine competitive interest. This change alone is likely to reduce the leasing time frame for unsolicited leases by up to a year.
Beyond the changes to the lease issuance process, BOEMRE also appears to be aggressively implementing the leasing and permitting program. On April 20, BOEMRE issued its call for information and nominations for projects off the coast of New Jersey. The call, which under BOEMRE's regulations typically would have been the second step in the leasing process, was issued without a preceding RFI, which generally has been the first step in the process. BOEMRE did so based on its apparent conclusion that the offshore wind industry's demonstrated interest in developing projects off New Jersey rendered the issuance of an RFI unnecessary.
BOEMRE has since indicated that it also might follow the same approach for the upcoming Virginia notice, suggesting this one-step process could become its standard practice for states where multiple developers already have shown interest in developing projects. While skipping this step might shorten the process only by a few months, it demonstrates BOEMRE's interest in seizing opportunities to expedite the leasing process whenever feasible.
BOEMRE also has emphasized its focus on getting turbines in the water as soon as possible, even at the expense of forgoing, in this first round of solicitations, some areas for potential offshore development. After receiving vocal opposition from elected officials and local fishing groups to its designation in the Massachusetts RFI of potential sites within certain key fishing areas, BOEMRE significantly scaled back the number of lease blocks available for potential development.
BOEMRE's decision suggests that it learned an important lesson from Cape Wind LLC's proposed project and is keeping its eye on the prize – namely, to get the first round of projects permitted and built by minimizing the potential for significant stakeholder opposition, which can slow down or even halt the permitting process. Arguably, this preemptive concession set a bad precedent for how best to respond to future stakeholder concerns, and possibly undermines the value of the NEPA review process as a vehicle for evaluating and selecting offshore development sites.

However, the agency's focus on coalescing broad support behind a few early projects should help the industry gain traction and proceed more quickly to actual construction and operation.
While it has been almost six years since the DOI was designated by the Energy Policy Act of 2005 as the lead permitting agency for offshore wind development, project permitting has progressed at what many in the industry believe to be a slow and perhaps overly cautious pace.
However, recent efforts to improve the offshore wind leasing and permitting processes have demonstrated a newfound willingness to aggressively exercise federal permitting authority to get the industry moving.
As a new industry in the U.S., the offshore wind industry faces many challenges, but with increasingly bold and decisive leadership at the federal level, the complex permitting process is becoming more streamlined, which will significantly reduce the regulatory burdens and associated risk of developing the first offshore wind projects in the U.S. Â
Daron Threet is an attorney in Dickstein Shapiro LLP's energy practice and has experience in matters related to the permitting, development, and regulation of coastal and offshore energy facilities, first as a federal government official and subsequently in private practice. He can be reached at threetd@dicksteinshapiro.com or (202) 420-4813.
Steven Wellner is an associate in Dickstein Shapiro's energy practice. He counsels developers, owners, and operators of large terrestrial and offshore energy infrastructure projects, primarily in the electricity sector, on permitting, regulatory and compliance issues. He can be reached at wellners@dicksteinshapiro.com or (202) 420-3468.