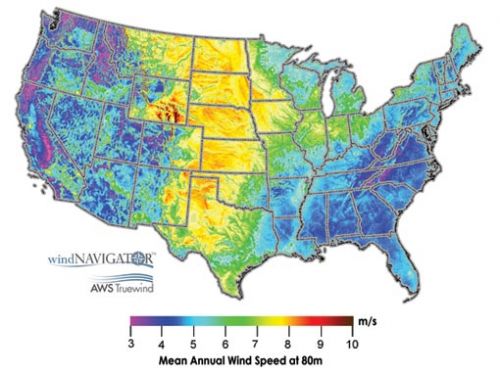 Albany, N.Y,-based AWS Truewind LLC has completed the first high-resolution wind resource map of the contiguous U.S. Covering a land area of over 9 million square kilometers, the U.S. wind map produced by AWS Truewind is the largest high-resolution wind resource map available to date, according to the company.
The core objective of the map is to further support the growth of the U.S. wind industry by providing a reliable and user-friendly means by which to identify attractive sites for wind project development across the nation.
'Our emphasis on high-resolution modeling and extensive validation has resulted in products that energy developers and government planners rely upon for siting projects and assessing development potential,' says Bruce Bailey, president and CEO of AWS Truewind. 'We've now taken the next step of making our mapping products more accessible in hopes of facilitating the ongoing expansion of wind power.'
The 200-meter grid cell resolution map was completed using AWS Truewind's proprietary MesoMap system, which has been utilized as a prospecting tool for wind farm siting in over 60 countries on behalf of public and private entities.
SOURCE: AWS Truewind LLC
Inset map depicts the approximate annual average wind speed over a 2.5-kilometer (1.6-mile) wide grid square at 80 meters above ground. The map was created by AWS Truewind using its advanced atmospheric models and historical weather data.