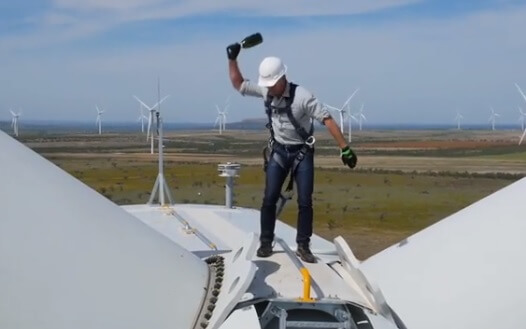 Amazon Wind Farm Texas is now up and running near Snyder, Texas. Built, owned and operated by Lincoln Clean Energy (LCE), the 253 MW facility is made up of 110 GE turbines capable of adding more than 1,000 GWh of clean energy to the grid each year.
Located in Scurry County, the project – christened by Amazon CEO Jeff Bezos himself atop a turbine – will provide 90% of its output to the e-retailer under a long-term contract.
"I applaud Amazon's leadership in supporting renewable power," says Declan Flanagan, founder and CEO of LCE. "Corporations like Amazon have become a major force in the transition to renewable power, and with their involvement, we look forward to producing power in Scurry County for years to come."
"Investing in renewable energy is a win-win-win-win – it's right for our customers, our communities, our business and our planet," adds Kara Hurst, Amazon's worldwide director of sustainability. "We now have 18 wind and solar projects across the U.S. with more than 35 projects to come. These are important steps toward reaching our long-term goal to power our global infrastructure using 100 percent renewable energy. We'd like to thank the leaders at LCE, the Scurry County community and our partners across the country who are helping us continue to bring new renewable energy online."
Fun day christening Amazon's latest wind farm. #RenewableEnergy pic.twitter.com/cTxeXdsFop

— Jeff Bezos (@JeffBezos) October 19, 2017
To thank and support the community, Amazon is also donating $50,000 to the Snyder Education Foundation to provide students and teachers with STEM learning opportunities.
"Scurry County has long been a hub for the energy industry, and we're excited to expand our commitment to wind power generation with Amazon and LCE," comments Scurry County Judge Ricky Fritz. "The wind industry has boosted the Texas economy with jobs, revenue to area landowners and property taxes that support our schools."