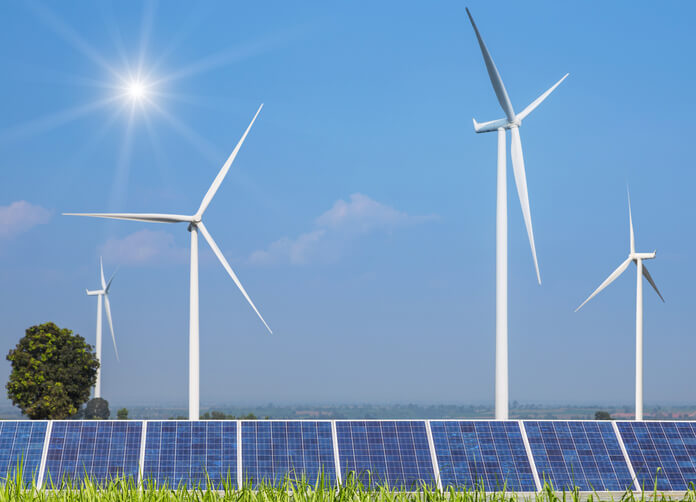 The House version of a landmark 100% clean energy bill rolled out earlier this year has been introduced by U.S. Reps. Jared Polis, D-Colo.; Raul Grijalva, D-Ariz.; Jared Huffman, D-Calif.; and Pramila Jayapal, D-Wash.
According to the lawmakers, the "100 by '50 Act," calling for 100% clean energy by 2050, is the first bill introduced in the U.S. House of Representatives that fully envisions a complete transition off of fossil fuels for the U.S.
U.S. Sens. Jeff Merkley, D-Ore.; Bernie Sanders, I-Vt.; Edward J. Markey, D-Mass.; and Cory Booker, D-N.J., introduced the Senate version in April. Likewise, their "100 by '50 Act" also lays out a roadmap for a transition to 100% clean energy no later than 2050.
"To remain a global economic leader, we must invest in renewable energy technology and fully embrace a cleaner, carbon-free future," Polis says in a press release. "The '100 by '50 Act' outlines practical steps the federal government can take to create good-paying jobs across the United States while protecting our planet and our health. The American people deserve to have clean air, as well as uncontaminated water, and the United States should be the 21st century renewable energy superpower."
Like the Senate bill, the House's "100 by '50 Act" has seven core components:
1. Greening the Grid: Phase out fossil fuel electricity by 2050, and replace it with renewable energy through a mandatory fossil fuel phase-out and major investments in clean energy, storage and grid infrastructure.
2. Electrifying the Energy Economy: Electrify as much of our transportation and heating systems with power from the electrical grid.
3. Clean and Renewable Energy for All: Ensure that low-income and disadvantaged communities share in the benefits of the renewables transition through grants to make clean energy, energy efficiency, and public transportation affordable and accessible, as well as job training in the clean energy sector.
4. Just Transition for Workers: Provide a just transition for the people who work in fossil fuels, and make sure they get fair benefits between jobs or in retirement.
5. Ending New Fossil Fuel Investments: Stop approving major fossil fuel projects, such as the Keystone XL Pipeline and Dakota Access Pipeline, and end special fossil fuel subsidies.
6. Ensuring American Competitiveness: Make sure energy-intensive U.S. products maintain a level playing field with products imported from other countries by imposing a carbon tariff on imported carbon-intensive products.
7. Mobilizing American Resources: Create a major new source of funding to ensure a rapid and smooth transition to 100% renewable energy by auctioning climate bonds and investing the funds in the new programs created by the legislation. The climate bonds will ensure climate resiliency throughout our existing infrastructure and communities and provide planning grants to organizations, communities, tribes and states to develop their own 100% clean energy plans and jump-start the transition.
In a statement, the National Congress of American Indians says, "Indian Country often leads in discussions around climate change, so we are encouraged that tribal governments will be able to fully participate in programs that allow us to plan for the sustainable future of our communities."
Voicing his support for the legislation, Michael Brune, executive director of the Sierra Club, states, "In order to halt air and water pollution from dirty fossil fuels, its vital that this transition is accelerated to protect the health of our families, tackle the climate crisis and create thousands of good-paying jobs. The momentum toward a clean energy economy is unstoppable and will only build thanks to this kind of leadership."
Also backing the bill is Environment America, whose energy program director, Rob Sargent, adds in a statement, "The 100 by 50 bill puts forward the right goal. Clean energy is on the rise; its costs are declining. Given the environmental benefits, it should be the go-to energy option for business, utilities, government and households across the country. It won't be easy. But we have no choice. Every day, the urgency of our environmental challenges becomes clearer. That's why we're ready to work to move America to a future powered with clean, renewable energy."