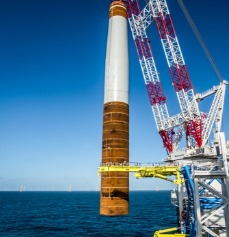 The Veja Mate Offshore Project, a 402 MW offshore wind development owned by Highland Group Holdings Ltd., Siemens Financial Services and CI II, has installed 24 1300T monopiles in the German North Sea using jack-up vessel Seajacks Scylla.
According to the company, this constitutes one-third of its total monopile installation.
Veja Mate asserts the construction phase began on April 4, and contractor Offshore Wind Force (OWF), a joint venture between Boskalis and Volker Stevin International, completed the installation services.
"It's quite an achievement to maintain installation speed of the world's heaviest monopile with a newly built mega jack-up vessel and balance the requirements from the authorities," says Rasmus Miller, foundation package manager. "After an initial learning curve, speed picked up; and on the 28th of May, OWF was able to complete installation of two monopiles in a single day."
The Veja Mate wind park will begin the next step of construction next week – installing transition pieces – independently from the monopiles.
The project is expected to be fully operational by the end of 2017.