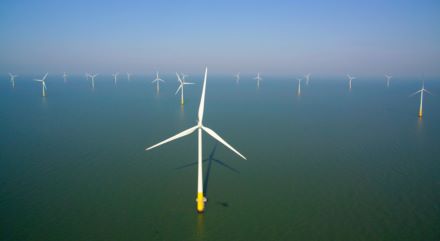 Vattenfall has announced that it is in the planning process for two wind farms in the eastern North Sea, 47 km off the Norfolk coast of England. The Norfolk Vanguard project will begin construction this year and will become Vattenfall's largest wind project so far. The second project, Norfolk Boreas, will follow next year.
When complete, the two projects will have a total installed capacity of 3.6 GW, enough to supply electricity to 2.6 million British households.
The Norfolk Vanguard farm contributes to Vattenfall's goal of tripling its wind power capacity to 7 GW across Northern Europe by 2025. The permit application for Norfolk Vanguard will be submitted in summer 2018, but the precise number and size of the turbines can't be determined until 2020.
Norfolk Vanguard will be one of the U.K.'s largest offshore wind farms, says Vattenfall. Vattenfall's largest offshore wind farm today – off the coast of Thanet, U.K. – produces 300 MW. Horns Rev 3, outside the Danish coast, is currently under construction, and when completed in 2017, it will have a 400 MW capacity.