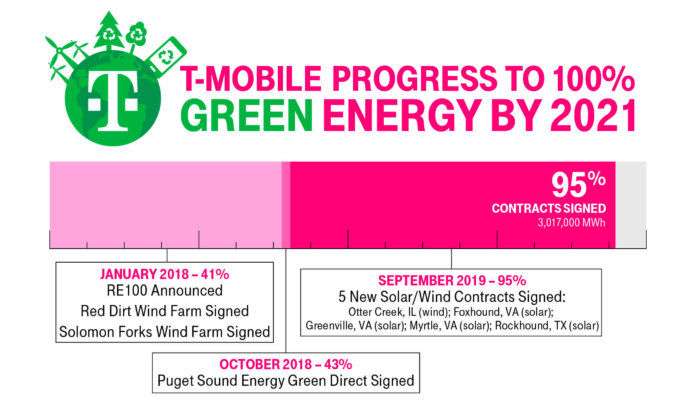 T-Mobile has announced several moves that will bring the company to 95% of its commitment to use 100% renewable energy.
First, T-Mobile's previously announced wind farm partner, ENGIE US Wind, has officially turned on its Solomon Forks Wind Project in Kansas. T-Mobile announced a 160 MW agreement for the project back in January 2018, when it also joined RE100, a global group of businesses committed to using entirely renewables by 2021.
Additionally, T-Mobile has inked deals on five new contracts – for four solar farms and one other wind farm – that will be added to its clean energy provider portfolio when the projects come online by 2021.
Along with reducing energy consumption, T-Mobile is achieving its renewable energy goal by buying enough clean power annually to account for every unit of electricity the company consumes. With the addition of the five new contracts, T-Mobile is now participating in a total of eight clean energy projects across the U.S.