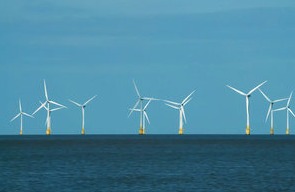 innogy and Statkraft are set to begin survey work in preparation for cable installation for the 900 MW Triton Knoll offshore wind farm, which is to be located approximately 32 kilometers off the Lincolnshire coast and 50 kilometers off the coast of North Norfolk.
According to the companies, the survey work will take place on the dunes and beach at Mogg's Eye, near Anderby, over three days, beginning Nov. 3, using technology that has been specially designed to leave the most minimal of impacts once the work is complete.
All consents have been secured and permissions granted, allowing full access for the works to take place, while Triton Knoll has also consulted Anderby Parish Council in preparation for the survey activity.
According to the companies, the work will take place at a total of 18 sites in and around the beach area, just five of which are within the inter-tidal zone of the coastline. The surveys are called Cone Penetration Tests (CPT) and will help the project get a better understanding of the ground conditions at the point where the offshore export cable, which carries the clean energy generated by the wind turbines, comes ashore.
As reported, testing involves pushing an instrumented probe of only 36 millimeter-diameters into the ground from a vehicle called a CPT Rig. Only one vehicle is required on-site, although a second standby rig may also support the work.
Triton Knoll Technical Engineer Andy Barwise says, "The most anyone is likely to see will be the tracked survey vehicle as it goes about its work in and around the beach area, but little else. These are essential survey works [that] will help us to plan our directional drill beneath the beach and dunes, ensuring that, during the construction phase, the cable can be installed with no disturbance to the sea defences."
The Triton Knoll offshore wind farm is being developed by a joint venture between Innogy Renewables UK Ltd. (50%) and Statkraft (50%), with innogy managing the project on behalf of the partnership. A development consent order for the offshore array was granted by the secretary of state in July 2013, while consent for the electrical system was granted in September.