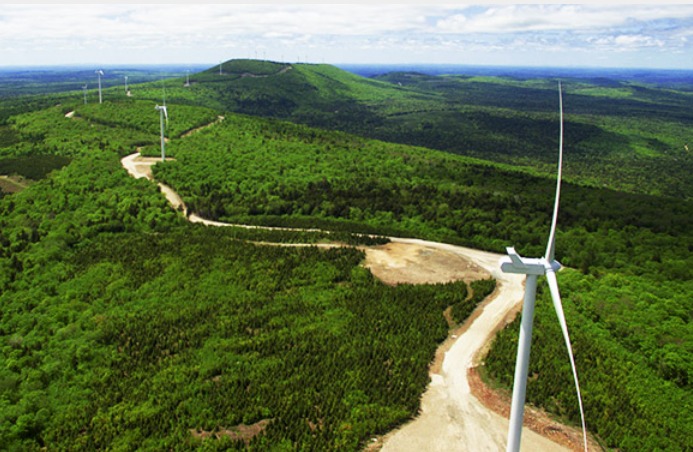 Southern Co. says that its subsidiary Southern Power has acquired its first project in Maine – the Passadumkeag Windpark, located in Penobscot County, with a nameplate capacity of approximately 43 MW – from an affiliate of Quantum Utility Generation.
"Southern Power's acquisition of Passadumkeag Windpark extends our national presence to 10 states," says Southern Power President and CEO Buzz Miller. "This exciting project adds to a dynamic renewable energy portfolio that is delivering clean, safe, reliable and affordable generation to wholesale customers across the country."
According to Southern Power, the majority of the electricity and associated renewable energy credits (RECs) generated by the facility are sold under a 15-year power purchase agreement to Eversource Energy. Southern Power will retain a small percentage of the electricity and RECs generated, which it may keep or sell.
The company states that Quantum Utility Generation developed and constructed the project, and EDF Renewable Services will serve as the balance-of-plant operations and maintenance contractor. Construction activities began in 2015 and are expected to be completed shortly after this acquisition.
Southern Power states that the project consists of 13 wind turbines manufactured by Vestas-American Wind Technology Inc. and that once operational, the Passadumkeag Windpark is expected to generate enough electricity to meet the energy needs of approximately 14,000 U.S. homes.
With more than 2,000 MW of renewable generating capacity ownership, Southern Power assembled its renewable portfolio through the strategic acquisition or development of 27 solar, wind and biomass projects that are either in operation or under construction across the U.S. In all, the Southern Co. system has added or announced more than 4,000 MW of renewable energy projects since 2012.