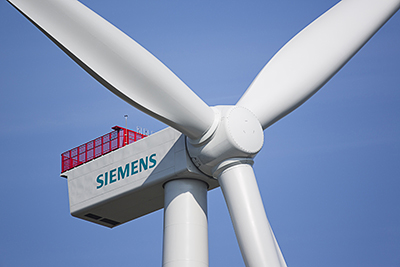 Siemens says it has been awarded its first commercial offshore wind order from Finland: the supply, installation and commissioning of 10 turbines for the Tahkoluoto demonstration wind farm in the Baltic Sea.
The customer is Suomen Hyötytuuli Oy, a wind power producer owned by eight Finnish utilities and headquartered in Pori. Installation of the turbines is scheduled to begin in summer 2017, and the start of operations is expected by fall 2017. Siemens will also be responsible for servicing the towers.
Each Siemens turbine has a capacity of 4 MW and a rotor diameter of 130 meters. With a total capacity of 40 MW and an annual net power production of over 155 GWh, the project will generate enough power to supply 8,600 electrically heated, single-family houses in Finland with clean energy, says Siemens.
Tahkoluoto is located approximately 0.5-3 km from shore in water 8-15 meters deep. The turbines will be mounted on specially designed, gravity-based steel foundations in order to withstand heavy ice loading. The government of Finland is contributing EUR 20 million toward the project, says Siemens.
"This order marks a significant milestone for Siemens. The project is not only the first offshore wind farm in Finland, but will also be used by the Finnish government to demonstrate that offshore wind power is a feasible solution for this area," comments Michael Hannibal, offshore CEO of Siemens' wind power and renewables division. "This project is attracting a great deal of attention throughout the entire Baltic region and will open doors for Siemens in the emerging offshore markets in this region."
In 2010, Siemens supplied one wind turbine with a capacity of 2.3 MW to Suomen Hyötytuuli Oy for the Pori pilot project, located 1.2 km off the Finnish coast. This pilot turbine will be surrounded by the 10 new wind turbines of the Tahkoluoto wind farm.