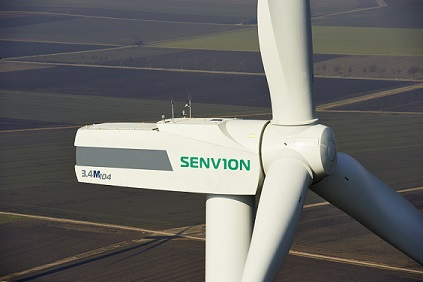 Senvion and its owners, Centerbridge and Arpwood, have announced the price range for Senvion shares in the planned private placement at EUR 20.00 to EUR 23.50 per share.
Senvion says it is offering up to 29.9 million shares from the holdings of the existing shareholders in the private placement, including potential over-allotments of 3.9 million shares (15% of the base offer of 26.0 million shares).
The placement price per share and the final number of shares to be sold are expected to be determined – based on the order book prepared during the book building process – on or about March 17. Up to 3.9 million additional shares may be placed with investors in connection with potential over-allotments.
The private placement, addressed exclusively to institutional investors, consists of a private placement in the U.S. to qualified institutional buyers and a private placement to institutional investors outside of the U.S.
Senvion says it has applied for the admission of its shares to trading on the regulated market segment of the Frankfurt Stock Exchange with simultaneous admission to the sub-segment of the regulated market with additional post-admission obligations (Prime Standard). Senvion's shares are expected to start trading on March 18.
Assuming all potential over-allotment shares are placed, the free float following the private placement is expected to amount to approximately 46% of Senvion's issued and outstanding share capital, the company says.
Senvion recently announced it was planning a listing of its shares on the regulated market segment (Prime Standard) of the Frankfurt Stock Exchange during the first half of this year.