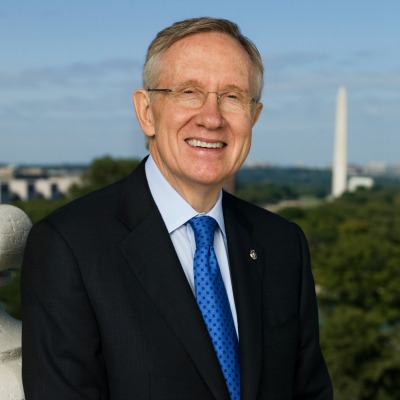 Senate Majority Leader Harry Reid, D-Nev., said last week he intends to push for legislation that would extend the wind energy production tax credit (PTC) – and other clean energy incentives – before year's end.
During remarks at the National Clean Energy Summit 7.0, held last week in Las Vegas, Reid acknowledged the importance of extending the wind industry's most important policy mechanism.
'Letting these critical incentives expire is not an option. I'll bring these incentives to the floor for a vote by the end of the year,' Reid said. The conventional wisdom – at least at the conference – has it that Reid will address the PTC during the lame-duck session of Congress.
During his speech, Reid did not specify which legislative vehicle he plans on using to pass a PTC extension; however, the most likely candidate is a stalled extenders package known as the EXPIRE Act.
The EXPIRE Act covers over 50 expired U.S. tax breaks, including the PTC. The legislation would retroactively extend the PTC through Dec. 31, 2015 – meaning that wind projects that start construction this year or by the end of 2015 would be eligible to take advantage of the $0.023/kWh incentive. In addition, the bill extends wind developers' option to choose a 30% investment tax credit in lieu of the PTC.
In April, the Senate Finance Committee passed the EXPIRE Act and sent the legislation to the full Senate. However, in May, Senate Republicans blocked the bill.
A Reid spokesperson acknowledges there is a possibility that the EXPIRE Act could again serve as the PTC's legislative vehicle. Nonetheless, the spokesperson notes that other possibilities remain.
Reid's proclamation was greeted with optimism by other summit speakers, such as John Podesta, counselor to President Barack Obama.
"We need to renew the credits, and [Reid] is going to get a vote this year," said Podesta. "And the administration supports Senator Reid's efforts."
Podesta, whose duties include overseeing climate change and energy policy, stressed the need to keep the progress going, emphasizing how solar energy has grown 10 times and wind energy has grown three times during the Obama administration.
Regarding the timing of the tax credit vote, Podesta stated it is not going to happen before the mid-term elections.
Rob Gramlich, senior vice president of government and public affairs at the American Wind Energy Association (AWEA), is optimistic about the legislation getting passed.
"AWEA is very encouraged to hear leaders from Senator Reid to John Podesta to former Secretary [Hillary] Clinton support renewable energy tax credits," he said. "In particular, to have Senator Reid commit to bringing them to the floor by the end of the year."
The summit ended with the keynote address by former Secretary of State Hillary Clinton.
In her speech, Clinton noted Texas and Iowa are already generating large percentages of their electricity from wind and stated, "There's no reason why other states can't do that as well."
Clinton said, "Now, the future that I envision is one where we move past, finally, the old false choice between protecting our environment and growing our economy, and instead we decide to do both."
She later added, "Today, I don't need to tell you that tax incentives for alternative energy investments are unpredictable at best."
Clinton went on to point out the discrepancies regarding tax credits, stating, "Generous subsidies for fossil fuels are still too easy to come by. In fact, the world spends more than $500 billion subsidizing fossil fuels every year, bloating budgets and creating incentives against innovation and progress."
Reid's National Clean Energy Summit brings together clean energy leaders, public officials, business executives, energy policy experts, entrepreneurs, investors, citizens and students to develop U.S. clean energy supplies that will secure greater energy independence and create jobs.
Richard Krauze is a veteran clean energy executive based in Denver. He can be reached at richkrauze@yahoo.com.