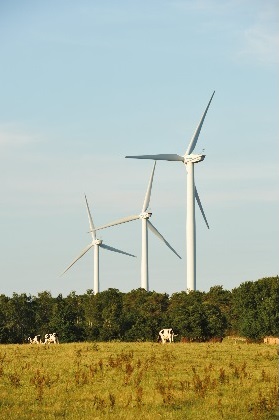 German wind turbine manufacturer Senvion has contractedwith RES for two wind projects totaling 74 MW in France.
Senvion will equip the Sambres wind farm with 26 Senvion MM82 turbines. In addition, 11 Senvion MM92 turbines have been installed for the Bois de la Serre wind farm.
According to Senvion, both projects are situated in a mountain/forest area where the wind is particularly strong and turbulent. The company says it mounted the turbines blade by blade and delivered them with specific hub heights in order to comply with site conditions, preserve the forest and avoid cutting down trees.
Matthieu Guerard, managing director of RES Southern Europe, says, "We are very pleased to be building these two projects in the Black Mountain area in Languedoc using Senvion turbines that meet the specific requirements of these technically challenging sites. These new projects, with an installed capacity of 74 MW, add to the 45 MW of wind farms already built by RES in the Black Mountain area, where renewable energies are an important factor for the local economic development."
Senvion will provide full maintenance services for a period of 10 years, including an option to extend the services up to 15 years. Together, the projects will produce enough electricity to power more than 24,600 three-person households (including heating) in France every year. Upon completion, says Senvion, the wind farms will save 47,300 metric tons of CO2 emissions annually.
At the Bois de la Serre wind farm, each of the 11 turbines has a rated power of 2 MW and a hub height of 88.5 meters. The towers were commissioned in December.
The 26 turbines at the Sambres wind farm will have a hub height of 85 meters. Five turbines have been installed thus far, and commissioning of the entire farm is planned for midyear.