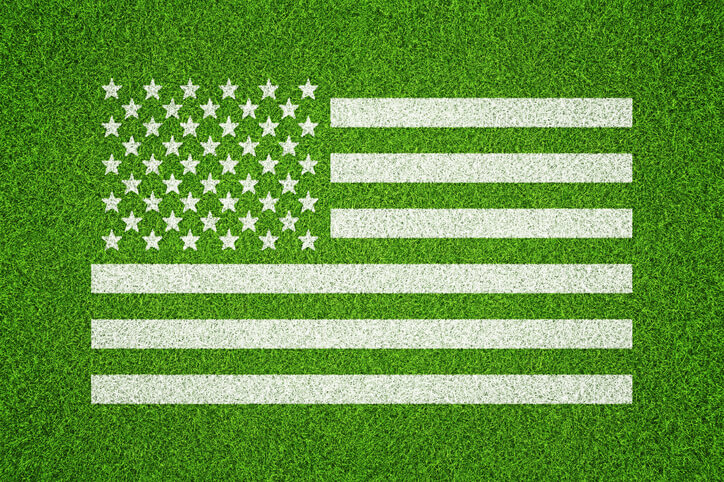 The U.S. Climate Alliance (USCA), an effort among 14 states and Puerto Rico to reduce greenhouse-gas (GHG) emissions, has released a report showing that member states are collectively on track to meet and possibly exceed their portion of the U.S.' commitment under the Paris Agreement.
Representing USCA, Govs. Jerry Brown, D-Calif.; Andrew Cuomo, D-N.Y.; and Jay Inslee, D-Wash., were recently joined by John Kerry, former secretary of state, to discuss how governors can step up given the void of federal climate action, says USCA. The alliance comprises California, Colorado, Connecticut, Delaware, Hawaii, Massachusetts, Minnesota, New York, North Carolina, Oregon, Puerto Rico, Rhode Island, Vermont, Virginia and Washington. Wednesday's event marked the first public meeting of the alliance's co-chairs.
"Governors Cuomo, Brown, and Inslee and other governors who are a part of the bipartisan U.S. Climate Alliance know the stakes in the climate fight," says Kerry in a press release from USCA. "They are leading on climate where the federal government is failing to do so, joining partners in business and local government to ensure the U.S. is making progress every day. Today we are reaffirming to the American people and to the leaders from all over the world that the United States will not abandon the global community and put its children and grandchildren at risk."
According to the newly released report, USCA states are collectively on track to reach a 24% to 29% reduction below 2005 emission rates by 2025, helping to achieve U.S. Paris Agreement targets. Between 2005 and 2015, alliance states reduced GHG emissions by 15%, compared with a 10% reduction by the rest of the country.
Also between 2005 and 2015, the combined economic output of alliance states grew by 14%, while the rest of the country grew by 12%. On a per-capita basis, economic output in alliance states expanded twice as fast as in the rest of the country – showing that climate action and economic growth can go hand in hand, according to USCA.
Notably, the report also says every alliance state has a renewable portfolio standard in place.
"The alliance believes in the Paris Agreement and will help America get on a solid path to decarbonize our economy," states Brown.
The bipartisan coalition, launched by Brown, Cuomo and Inslee as a response to President Donald Trump's announcement to withdraw from the Paris Agreement, has grown to encompass 36% of the U.S. population and more than $7 trillion of America's GDP, says USCA. The new progress report comes two months before world leaders convene in Germany for COP 23, where countries will detail their plans to meet the Paris Agreement. The USCA will be represented at COP 23 to report on their progress.
"It has never been more important for states to step up to act on climate, and the Climate Alliance states are stepping up in a big way," says Inslee. We are the ones who can, and will, lead the job-creating clean energy revolution and showcase all our nation is capable of to combat carbon pollution."
To accelerate progress and drive more critical climate-related investment, Cuomo has announced an expansion of NY Green Bank. Building on the success of its $400 million in commitments across 21 projects and robust pipeline of deals, NY Green Bank is committing to work with the private sector to raise new funds; assist other states in the establishment of new Green Bank offices; and provide capacity to those new Green Banks for back-end services, including due diligence, underwriting and general technical support.
The expansion will also allow NY Green Bank to better leverage public dollars and grow its own project development scope to clean energy projects in other states across the country. NY Green Bank is part of the state's 10-year, $5 billion Clean Energy Fund, which supports cleantech innovation and mobilizes private investment in clean energy in New York State.
"While the federal government abdicates its responsibility on climate change, governors do not have the luxury of denying a scientific reality, and it is more important than ever for states to take collective, common-sense action," says Cuomo. "Today, New York State is picking up the mantle of leadership and raising the bar in the global fight against climate change. As a co-chair of the U.S. Climate Alliance, we are committed to upholding our share of the Paris Agreement, driving the clean energy economy, and ensuring a greener future for our children and for all Americans."
In a message from the co-chairs, the report states, "Make no mistake – federal climate leadership remains critical. But in its absence, we will continue to press forward. We will continue to make a clean energy future a reality for the citizens of our states. And will work even harder to help other states join our efforts."
The alliance notes that historical data and projections used in the report were provided by Rhodium Group, an independent research company.
The full report is available here.