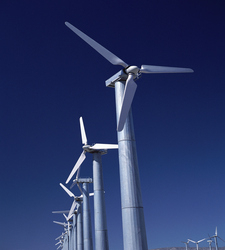 A unique partnership between a university, a developer and an energy company could result in a 100 MW wind farm that would be used as a research center.
Purdue University's board of trustees recently gave the school permission to pursue leasing land as part of a 60-turbine wind farm, which would be located on a combination of university and private land in Tippecanoe County, Ind.
'This is an energy park that has a lot of potential to positively impact the research on wind and to really understand it better,' says Scott Zigmond, vice president of sales and marketing for Performance Services.
The project would be developed by Indianapolis-based Performance Services, a design-build engineering firm. Other partners include Purdue University, the Purdue Research Foundation and GE.
'We haven't found any partnerships like this in the country,' says Zigmond. 'We haven't seen a commercial wind farm with this level of research at 100 MW in the country.'
The project is proposed for Purdue's Animal Sciences Research and Education Center (ASREC) and adjacent private property. The school erected a meteorological tower in 2005, and three years later began seriously exploring the idea of building an energy park. The Purdue Research Foundation subsequently issued a request for proposals (RFP). It was through this RFP that the school learned that Performance Services also wanted to build a wind project just north of the university's property.
'We discovered that the developer that we already felt was pretty strong and had assembled a pretty good team also was looking at a development that would be a neighbor to our property,' says Ken Sandel, director of physical and capital planning at Purdue University. 'It kind of all merged together and has really become a good partnership.'
What sets this proposed project apart is the potential for research in the areas of turbine reliability, and how wind energy affects the environment and agriculture, says Douglas Adams, a professor of renewable energy and power systems at Purdue's College of Engineering.
'You can do your best to create things like this in the laboratory, but at the end of the day, it's where the rubber meets the road that matters from a standpoint of these actual measurements,' says Adams. 'The data source that [the wind project] represents is just unprecedented. Having that kind of access to data, both within the wind farm and in the vicinity of the wind farm, will just be fantastic.'
In addition to providing 1.5 MW turbines, and operations and maintenance, GE would work with engineers at Purdue University to conduct research on wind turbines. Research conducted at the site would be unique because it would be done at a system level, rather than on an individual turbine, says Adams.
'The idea and the process of collecting data from an operating wind turbine is generally well understood,' he says. 'I think the opportunity that this represents is that that can be done at a system level. Now we can start to understand these wake effect interactions and how control and operation of one turbine affects turbines that are downstream, for instance.'
Purdue University offers a wind certificate program, through which some students are sent to the National Renewable Energy Laboratory or Sandia National Laboratories to work on turbines that are set up in those locations. Adams says the few students lucky enough to visit the turbines gain a unique perspective about how wind energy works.
'Those students who go and test the utility-scale wind turbine, they come back and they're different,' he explains. 'They have a different appreciation for their work, and obviously, they are much more competitive for jobs in the industry.'
Having turbines on university property will make it easier for more students to work with the machines directly, says Sandel.
'We feel that this will provide a lot of potential and a lot of opportunity for our students,' he says.
The Purdue Research Foundation plans to handle leasing arrangements for about 1,600 acres of Purdue land 10 miles northwest of the campus in northern Tippecanoe County, where half of the turbines would be built for the Purdue Energy Park. Performance Services' wind farm, known as Performance Park, is proposed for more than 2,400 acres of private property north of ASREC.
Performance Services is working with Duke Energy, NIPSCO, Indiana Power & Light Co., Indiana Municipal Power Agency, Vectren Corp. and Hoosier Energy to secure power purchase agreements (PPAs), which the company hopes will happen by this summer. Zigmond says that the PPAs can be split among utilities.
'What we really like about it is that it's an Indiana developer with Indiana construction with an Indiana university,' says Zigmond. 'Hopefully, utility companies recognize this so we can keep that power in the state of Indiana.'
Performance Services hopes to place the turbine order this fall and begin installation in spring 2012, with final completion expected later that year. The developer's construction partner is White Construction, which expects that up to 225 temporary jobs will be created as a result of development.
In addition to the six to eight long-term jobs that are expected for the project, Zigmond says there is employment potential elsewhere as well.
'Researchers believe they can bring in millions of dollars of research funds, which then could create jobs and could create some spin-off companies,' he notes.