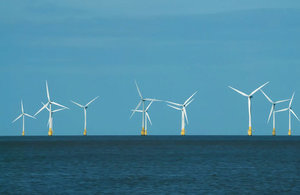 The U.K.'s Department for Business, Energy and Industrial Strategy has given development consent for the Triton Knoll Electrical System, which will transmit energy generated by the 900 MW Triton Knoll Offshore Wind Farm, jointly developed by RWE Innogy and Statkraft.
The power will be sent to the National Grid substation at Bicker Fen in Lincolnshire. The electrical system will include onshore and offshore buried export cables and associated works; an intermediate electrical compound to provide voltage stability and compensate for electrical losses; and a substation located in the vicinity of the grid connection point.
The application was submitted to the Planning Inspectorate for consideration on April 24, 2015, and was accepted for examination on May 21, 2015. Following a six–month examination during which the public, statutory consultees and interested parties were given the opportunity to give evidence to the Examining Authority, a recommendation was made to the then secretary of state for energy and climate change on June 3, 2016.
Nearly 200 people provided input on the project, according to a press release from the U.K. government.