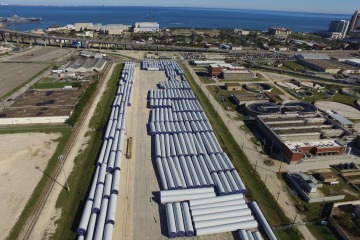 By the end of 2017, Port Corpus Christi is expected to reach a new wind turbine cargo milestone, having handled more than 3,000 wind turbine components during the year.
In 2015 and 2016, the number of wind turbine components handled via Port Corpus Christi was 2,603 and 2,875, respectively, according to an announcement from the Texas port, which is located on the western Gulf of Mexico. Port Corpus Christi says its strategic location allows for excellent logistics solutions for wind projects in Texas.
On Dec. 12, its commission approved a contract for the construction of an additional 25-acre laydown yard for storing wind turbine components and other breakbulk cargo. The first phase, comprising a 10-acre laydown yard, will be available by the end of the first quarter of 2018, and the additional 15-acre laydown yard will be available within the following months.
"Port Corpus Christi is proud to offer customized logistics solutions for the fast-growing wind energy industry in North America. Port authorities play an important role within the supply chain to help customers and users successfully execute major wind turbine projects," comments Jarl Pedersen, Port Corpus Christi's chief commercial officer. "We also recognize the continued innovation in the wind energy industry and need to make infrastructure investments allowing us to offer competitive solutions for transport of ever-larger wind turbine components."
Photo courtesy of Port Corpus Christi