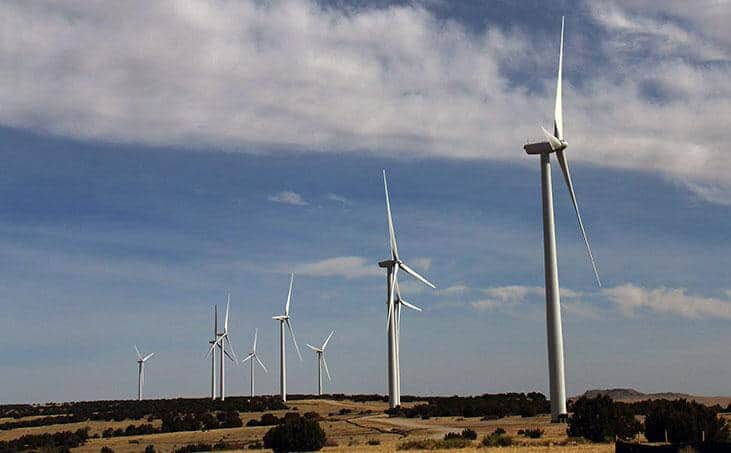 With the integration of its 60 MW Peak View Wind Project into the grid, Black Hills Energy is bringing renewable energy to its more than 94,000 customers in southern Colorado.
The 34-turbine wind farm is located near Walsenburg, Colo. Completed last October, the Peak View Wind Project was constructed under a build-transfer agreement with Invenergy Wind Development Colorado LLC and fueled as many as 120 local Colorado jobs during construction. Now, a team of four will manage ongoing operations and maintenance for the facility from an office in Walsenburg.
"Wind energy provides a cost-effective means of delivering energy to Black Hills' southern Colorado customers, and completion of the Peak View Wind Project is a milestone worth celebrating," says Greg Leuchtmann, director of origination for Invenergy.
Construction and system integration of the Peak View Wind Project was covered by a renewable energy standard adjustment rider, and costs related to the project will be recovered through existing bill charges, the company says.
Black Hills now receives 19% of its energy from renewable energy sources. With the Peak View Wind Project, Black Hills Energy is on track for compliance with Colorado's renewable energy standard, requiring investor-owned utilities to receive 30% of generating capacity from renewable sources by 2020.
Black Hills Energy's southern Colorado system also includes the Busch Ranch Wind Farm and Pueblo Airport Generating Station. Together, Busch Ranch and Peak View provide nearly 90 MW of combined wind power, and when the wind isn't blowing, the Pueblo Airport Generating Station provides natural-gas-powered energy.
"Since 2011, our southern Colorado team has worked tirelessly to evaluate the energy needs of the communities we serve, balanced with some of the most stringent regulatory requirements for clean energy in the country," says David Emery, chairman and CEO of Black Hills Corp. "Southern Colorado has a lot to be proud of, as it boasts one of the state's cleanest and most forward-looking energy grids, fueled by natural gas and renewable energy."