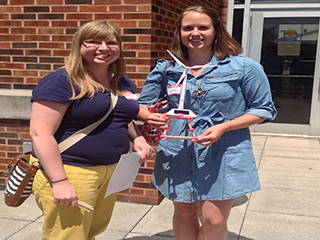 Enel Green Power North America Inc. (EGP-NA), in collaboration with the Pawhuska Public Schools in Osage County, Okla., recently sponsored two local teachers to attend RECharge Academy, a weeklong training workshop on renewable energy.
According to EGP-NA, the goal of RECharge Academy is to help educators understand renewable energy science, how renewable energy can impact the world and how educators can creatively share these concepts in the classroom. After completing an academy, all attendees become RECharge instructors and are certified to teach RECharge programming in their own areas.
As the owner and operator of the 150 MW Osage Wind project in Osage County, EGP-NA partnered with the local Pawhuska Public School District to fund scholarships for two area teachers to attend the 2016 RECharge Academy, which this year took place in Pittsburgh. Pawhuska Public Schools selected Sarah Kendrick and Christina Kendrick to receive the scholarships to attend the training.
"The Osage Wind farm has served as a resource for many schools since beginning operations in 2015 – hosting dozens of tours and welcoming hundreds of students and teachers from the local community," says EGP-NA's Jason Heitman, who serves as the operations and maintenance supervisor at Osage Wind. "We look forward to collaborating with Christina and Sarah this coming school year and opening up our wind site to create hands-on learning experiences at our project site and support the integration of renewable energy education in the classroom."