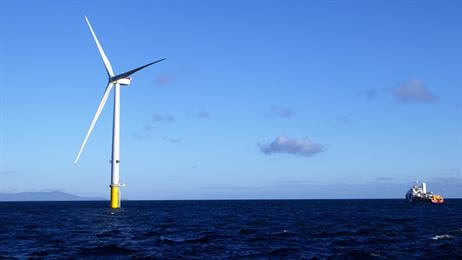 The board of directors of Ørsted, formerly DONG Energy, has approved the interim financial report for the first nine months of 2017, when operating profit (EBITDA) amounted to DKK 9.5 billion, corresponding to an underlying growth of 11%.
The company, whose shareholders officially approved its name change on Oct. 30, has now signed an agreement to sell 50% of Walney Extension, a 659 MW U.K. offshore wind farm, to a consortium consisting of PKA and PFA, two Danish pension funds. Each investor will obtain a 25% ownership interest in the project. Walney Extension, which is currently under construction, will be the world's largest offshore wind farm when commissioned in the second half of 2018, says Ørsted.
"We're delighted to welcome two Danish pension funds as co-owners of Walney Extension," says CEO Henrik Poulsen. "We already have a strong partnership with PKA on three other offshore wind farms, and we look forward to building an equally long-lasting relationship with PFA on what will be the world's biggest wind farm when completed. Both partners are committed to the green energy transition, and I'm pleased that our offshore wind assets continue to be attractive to institutional investors."
Following the farm-down of 50% of Walney Extension, the company has increased its EBITDA guidance for 2017 from DKK 17 billion-19 billion to DKK 19 billion-21 billion.
In the third quarter of this year (Q3'17), the company says its underlying EBITDA was 10% lower compared with Q3'16. However, earnings from its operating offshore wind farms increased by 39%.
Also in Q3, the company divested its upstream oil and gas business to INEOS and was awarded a contract to build the Hornsea 2 offshore wind farm in the U.K.
"The divestment of our upstream oil and gas business to INEOS was a milestone in our strategic transformation from black to green energy," adds Poulsen. "Our vision is to create a world that runs entirely on green energy. We expect that more than 95 percent of the power and heat we generate in 2023 will be green."