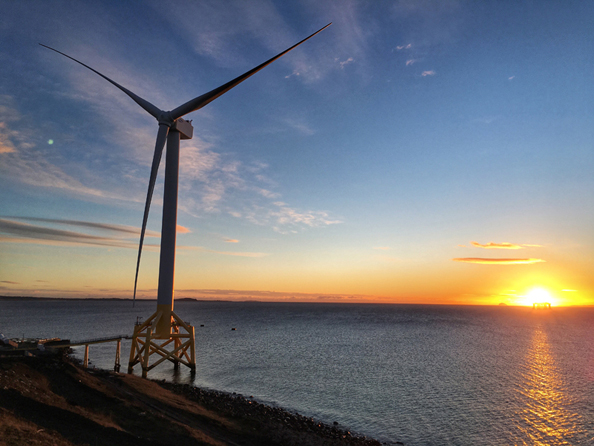 The Offshore Renewable Energy (ORE) Catapult has unveiled a 7 MW demonstration offshore wind turbine in Levenmouth, U.K., underlining the vital role that Scotland, and the wider U.K., can play in research, technology and skills development at the very heart of the global renewable energy industry.
According to ORE Catapult, the Levenmouth Demonstration Turbine is the world's most advanced, open access, offshore wind turbine dedicated to research and offers complementary opportunities for economic growth, training and development of skills vital for the future of the offshore wind industry. ORE Catapult acquired the turbine from Samsung Heavy Industries in December 2015.
The turbine offers U.K. industry and academia an opportunity to develop a deeper understanding of a wide range of technologies, as well as the operations and maintenance aspects of offshore wind turbines, with the ultimate goal of reducing the cost of energy. ORE Catapult is working closely with key academic and industry stakeholders to align the research program of the Levenmouth Demonstration Turbine with industry priorities to drive cost reduction in offshore wind.
ORE Catapult is also working with local partners, including Fife Council, Fife College, Levenmouth Academy, Skills Development Scotland and the Energy Skills Partnership, to develop and deliver educational and training programs that will both support local young adults to move on to further and higher education and develop a unique curriculum to ensure local training programs deliver employment-focused, in-demand skills to local people.
"The Levenmouth Demonstration Turbine will play a major part in the development of future technologies to lower the cost of offshore wind," says Andrew Jamieson, chief executive of ORE Catapult. "It offers opportunities for U.K. supply-chain and technology development and, sitting so prominently at the heart of the Levenmouth communities, it is vital that the turbine also plays a role in locally developing and supporting the next generation of Scottish engineers, who will ensure that Fife enjoys a bright future thanks to renewable energy."
Image Credit: Matthew Kelly