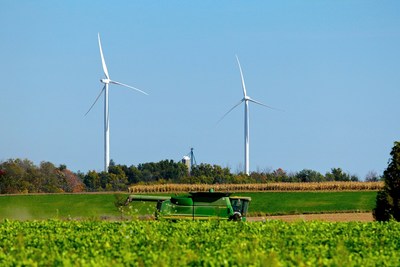 Bullfrog Power and Oxford Community Energy Co-operative (OCEC) have announced the recent commissioning of what they say is Ontario's first community-owned wind farm.
Gunn's Hill Wind Farm, comprising 10 Senvion MM92 turbines and totaling 18 MW, is located in Oxford County in southwestern Ontario.
Prowind Canada developed and constructed the project, which is owned by a limited partnership comprising Prowind Canada, OCEC and the Six Nations of the Grand River Development Corp. The wind farm achieved commercial operations in November.
Bullfrog Power, which announced its support for the project in 2014, has supported more than 70 green energy projects across Canada through its community renewable projects program.
"Bullfrog Power's early partnership with the co-operative was an important show of support that contributed to its success," comments Helmut Schneider, president of Prowind Canada Inc. and former CEO of OCEC. "Today, the Gunn's Hill Wind Farm provides an opportunity for community members to directly benefit from new renewable energy generation in their area."
The wind farm is now delivering enough energy to power more than 6,000 homes in Oxford County. In September 2015, the county, which is located between London and Kitchener-Waterloo, adopted a sustainability plan to achieve 100% renewable energy by 2050.