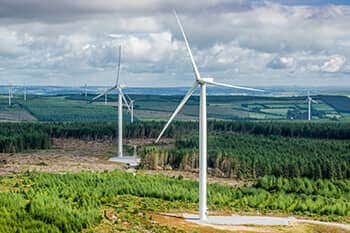 With the commissioning of the 95 MW Meenadreen wind farm in Donegal, Nordex has passed a new milestone in the Republic of Ireland: 500 MW of wind turbines in operation.
In total, Nordex turbines with a capacity of 529 MW are now producing green power for the Irish Republic; that corresponds to a market share of almost 20%, says the German turbine manufacturer.
Compared with 2015, Nordex says it approximately doubled its order intake – 184 MW – in this market in 2016.
At the end of 2016, the company inked an order from Invis Energy for the Slievecallan West project, which will comprise 18 N90/2500 turbines installed on 80-meter tubular steel towers in County Clare on Ireland's west coast. Nordex will also be providing services for a period of 15 years.
Slievecallan West is Nordex's third project with Invis Energy, following the now-operational Knockduff (65 MW) and Killaveenoge (25 MW), which is currently being commissioned.