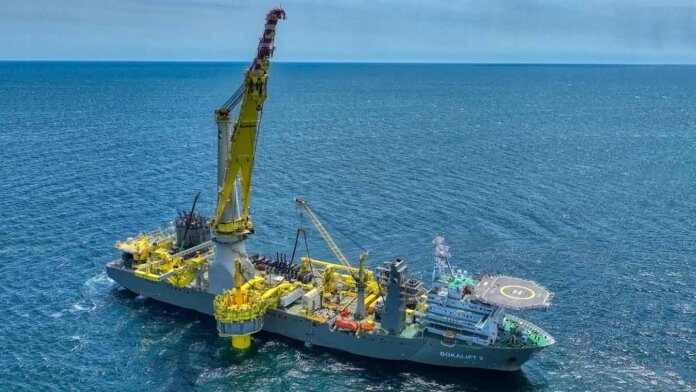 According to New York Gov. Kathy Hochul's office, South Fork Wind, New York's first offshore wind farm, has achieved its initial "steel in the water" milestone with the installation of the project's first monopile foundation.
South Fork Wind's offshore substation, the first built in the United States, will be installed next. Hundreds of U.S. workers and three Northeast ports will support construction through late fall. The project remains on track to become America's first utility-scale offshore wind farm to be completed in federal waters when it begins operations by the end of this year.
South Fork Wind is one of five offshore wind projects New York state has in active development, the largest portfolio in the nation (more than 4.3 GW).
"New York is leading offshore wind development and building a green economy that will support good-paying jobs and benefit generations to come," says Hochul. "This progress cements New York as a national hub for the offshore wind industry."  
Once completed, the 12-turbine, 130 MW South Fork is expected to generate enough energy to power roughly 70,000 homes, bringing New York closer to its Climate Leadership and Community Protection Act goal of developing 9,000 MW of offshore wind by 2035. 
"As we reach a milestone nearly a decade in the making, we're reflective of all those who have long championed this project in the East Hampton community, and beyond," says David Hardy, CEO Americas at Orsted, co-developer of the venture with Eversource.
"The bold leadership of the Biden-Harris and Hochul administrations is putting New York and the nation on a path to a cleaner future," adds Hardy. "Thanks to American ingenuity, South Fork Wind is jumpstarting a new U.S. jobs engine and tackling climate change head-on."