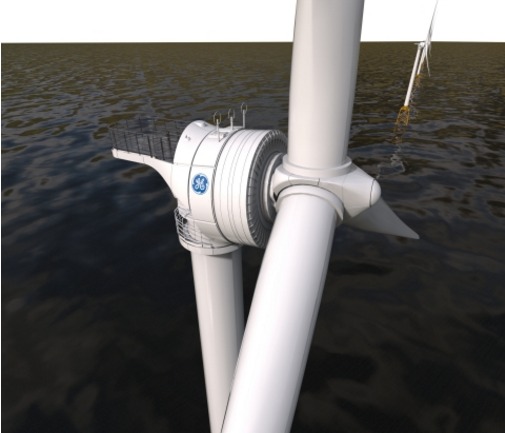 Merkur Offshore GmbH and GE Energy Financial Services have announced the financial close of the 396 MW Merkur offshore wind development project, a construction-ready wind farm located approximately 45 kilometers north of the islands of Borkum, Germany, in the North Sea.
According to Merkur, the project will consist of 66 turbines and, once complete, will generate approximately 1,750 GWh annually, which is enough clean energy to power around 500,000 homes.
The company adds that a total capital investment of EUR 1.6 billion was raised from equity investors and bank lenders on a nonrecourse project financing basis.
Close to EUR 500 million in equity was provided by a consortium of five sponsors, comprising Partners Group, the global private markets investment manager (with a 50% equity share); InfraRed Capital Partners, the infrastructure and real estate investment manager (with a 25% equity share); DEME Concessions Wind, the infrastructure investment arm of the DEME Group (12.5%); GE Energy Financial Services, the energy investing arm of the industrial company (6.25%); and L'Agence de l'environnement et de la maîtrise de l'énergie (ADEME), acting on behalf of the French state (6.25%).
"With several coal-fired and nuclear power plants due to be retired across Germany by 2020, Merkur is a timely project and will contribute towards maintaining the country's energy supply while catering to the long-term shift towards renewables in the power generation mix," says Brandon Prater, partner and co-head of private infrastructure for Partners Group.
Jérôme Pécresse, president and CEO of GE Renewable Energy, comments, "This is a significant milestone for both the Merkur Offshore project and the European offshore wind industry. Securing this funding ensures the first large-scale commercial deployment of our state-of-the-art Haliade 150-6 MW offshore wind turbine in Europe."
As reported, the Merkur Offshore wind farm will be one of Germany's largest wind farms. GE will supply 66 Haliade 150-6 MW offshore turbines, installed by DEME and built and operated by Merkur Offshore.
Project construction will start immediately and be undertaken by GeoSea, a member of the DEME Group.
Project Merkur was advised by Amsterdam Capital Partners, Deutsche Bank, Hogan Lovells, EY, Marsh and PMC.