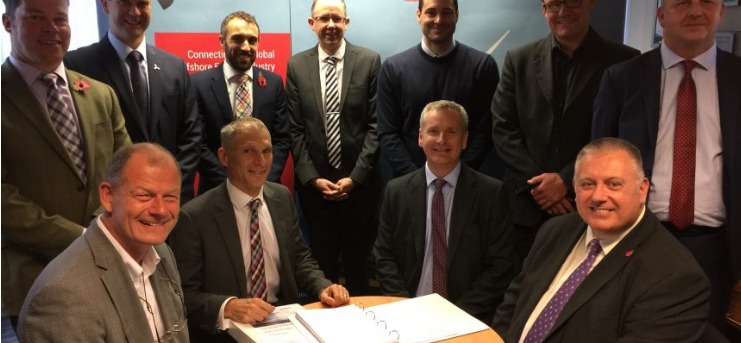 JDR, a supplier of subsea power cables and umbilicals to the global offshore energy industry, has been awarded a contract by DONG Energy to supply subsea power cables for Hornsea Project One.
With a total capacity of 1.2 GW, Hornsea Project One will be the world's largest offshore wind farm and the first to exceed 1 GW capacity, DONG states. The project is located 120 kilometers off the Yorkshire coast and will meet the electricity needs of well over 1 million U.K. homes.
According to JDR, the contract – which is the largest array cable award in JDR's history – will see the company design and manufacture 242 kilometers of array cables, covering two-thirds of the total wind farm capacity. JDR says it will also provide terminations, hang-off arrangements and additional accessories, as well as services at the site.
Baroness Neville-Rolfe, U.K. energy minister, comments, "Businesses in the U.K. have greater certainty than ever before, thanks to government support. This agreement between JDR and DONG Energy is a great example of how this newfound certainty can drive local jobs and growth through the U.K. supply chain."
JDR says the Hornsea Project One contract follows the signing of an array cable framework agreement between the two parties in June 2015 and the subsequent award of the Racebank offshore wind farm array cable contract in September 2015.
Duncan Clark, Hornsea Project One program director at DONG Energy, says, "Hornsea Project One is truly a pioneering project for the U.K. and for the electricity sector. When built, it will become the world's largest offshore wind farm by a considerable margin, helping to support government ambitions to meet carbon reduction targets. We are committed to investing in the U.K., and it's great to award a significant contract like this to a U.K.-based company [that] we know offers high-quality design and reliable delivery in harsh offshore environments."
JDR says it will manufacture the cables at its facility in Hartlepool, with batch deliveries scheduled for the third quarter of 2018 and second quarter of 2019.
Photo courtesy of JDR.