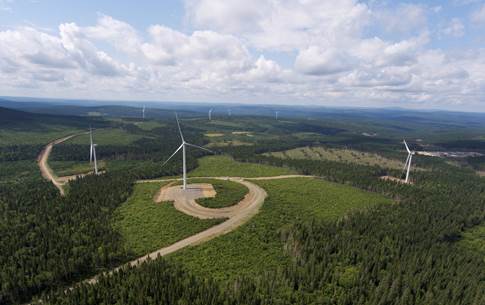 Invenergy Wind LLC's Roncevaux wind farm, located in Quebec, officially began commercial operations on Dec. 30.
Roncevaux is located in the Ruisseau-Ferguson unorganized territory in the regional county municipality (RCM) of Avignon, approximately 500 kilometers east of Quebec City.
The 74.8 MW project features 34 GE 2.2-107 wind turbines. Energy output will be purchased by Hydro-Quebec Distribution through a 25-year power purchase agreement.
"We're pleased to complete this important milestone together with our local community partners," comments Bryan Schueler, Invenergy's senior vice president of development. "We were faced with an ambitious timeline for this project, and thanks to the strong relationships and collaboration with our partners, we were able to accomplish our goals for making Roncevaux operational before the end of 2016."
The Roncevaux wind facility is situated close to Invenergy's existing Le Plateau, Le Plateau 2 and Des Moulins Phase 2 wind farms. Roncevaux is a collaboration between Invenergy, the Reegie intermunicipale de l'eenergie Gaspeesie-IIles-de-la-Madeleine and Energie Eolienne Bas-Saint-Laurent S.E.N.C.
"The realization of the Roncevaux project with our partners, Gaspesiens and Invenergy, represents a breath of fresh air for the RCMs, the Maliseet First Nation of Viger and our 200,0000-citizen shareholders who will have access to significant profits for the next 25 years," adds Michel Lagace, chairman of Energie Eolienne Bas-St-Lauren.