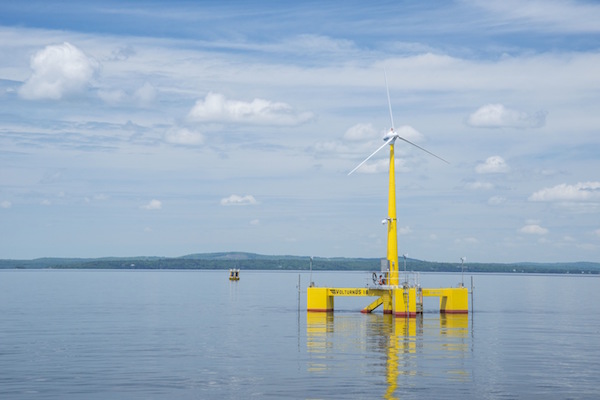 France-based naval defense and energy company DCNS says it has joined the University of Maine, the UMaine Advanced Structures and Composites Center, Emera, and Cianbro on the development of the 12 MW New England Aqua Ventus floating offshore wind pilot project.
On May 27, the U.S. Department of Energy announced that this project was one of three eligible projects to receive up to $39.9 million each in funding.
Together, the consortium has formed a team to develop, construct and operate the project, which will involve two 6 MW floating wind turbines in the Monhegan Island Test Site in Maine state waters.
According to DCNS, the floating wind turbine hull design of the Aqua Ventus project has already been tested at a 1:8 scale prototype, called VolturnUS, in Castine, Maine. The hull and turbine were tested for almost 19 months from deployment in June 2013 to removal in late November 2014. DCNS says this was the first grid-connected offshore wind turbine in the Americas to send electricity into the power grid.
Since then, says DCNS, UMaine and its partners have made significant progress on the engineering design of the full-scale foundation.
"We are very proud to be part of the winning consortium, and we look forward to bringing DCNS expertise to this outstanding project," states Frédéric Le Lidec, marine renewable energy director at DCNS.
Photo courtesy of Maine Aqua Ventus: the VolturnUS prototype