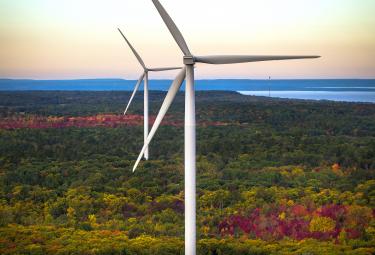 GE Renewable Energy has announced it will provide 43 wind turbines and a full services agreement for two new wind projects in eastern France. The Rougemont and Vaite wind farms are being developed by Opale Energies Naturelles on behalf of Velocita Energies, and the sites will install a combined 120 MW of GE technology over the next two years.
The agreement marks GE's largest French onshore wind deal to date and will include the biggest installation of the company's 2.75-120 wind turbine, an uprated version of its 2.5-120 machine, anywhere in Europe.
Construction will begin in the second half of 2016. Most of the turbines are scheduled to be installed late next year, with one additional phase of construction coming in late 2017. The first phase of commercial operations will begin in early 2017, and both wind farms will be fully operational in 2018.
The Rougemont and Vaite deal follows GE's recent announcement that it would also supply turbines for the Monts du Lomont wind farm, another Velocita project in the Franche-Comte region.