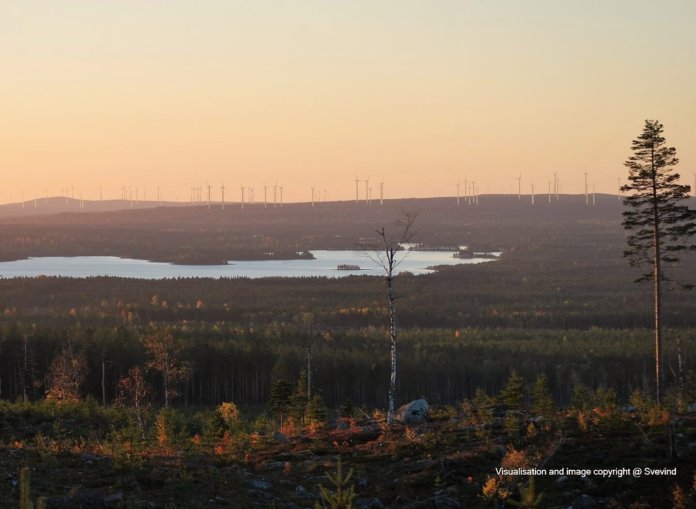 GE and Green Investment Group Ltd., part of Macquarie Group, have partnered to deliver and operate 650 MW of onshore wind through the Markbygden ETT wind farm in northern Sweden.
According to the companies, the project will be the largest single-site onshore wind farm in Europe and will increase Sweden's installed wind generation by more than 12.5%. The equity partners raised approximately EUR 800 million in financing and have commenced construction of the project.
GE Renewable Energy will supply 179 of its 3.6 MW turbines with 137-meter rotors, a turbine ideally suited for the site's wind speeds and climate, the company says. The blades will also be equipped with an ice mitigation system by GE's LM Wind Power. In addition, GE is providing a 20-year full-service agreement, and through its grid solutions business, it will provide the high-voltage switchgear for two collector substations at the wind farm.
GE Energy Financial Services and Green Investment Group jointly acquired the wind farm from Swedish wind developer Svevind and invested more than EUR 300 million in equity to finance the project.
They also originated and structured a 19-year, fixed-volume power purchase agreement (PPA) with a subsidiary of aluminum producer Norsk Hydro. The PPA will enable Norsk Hydro to fix the price of a significant portion of the electricity demand for its Norwegian aluminum manufacturing facilities, producing approximately 100,000 metric tons of aluminum per year. GE and Green Investment Group say the agreement is understood to be the largest corporate wind energy PPA in the world.
The Markbygden ETT project was developed over 15 years by Svevind. The project will be situated on properties owned by forest owner Sveaskog Förvaltnings AB, private forest holding company SCA Skogsfastigheter AB and several private-property owners.
The companies expect to begin commissioning the turbines in the second half of 2018 and have the project be fully operational by the end of 2019.
"We are excited to have been chosen by Svevind to contribute to this massive project," says Pete McCabe, president and CEO of GE's onshore wind business. "Markbygden ETT marks our commitment to the Swedish onshore wind arena and extends our presence in Europe while showcasing our technical capabilities – with LM Wind Power – and project development and management differentiators."