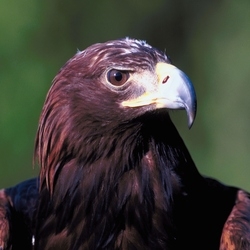 The U.S. Fish and Wildlife Service's (FWS) Draft Voluntary Land-Based Wind Energy Guidelines are open for public comment through May 19. But regardless of whether the feedback recommends that the guidelines become regulatory or remain voluntary, the agency wants to collaborate with wind developers.
'Our key message here is, come to us at the get-go, before a site has been selected [and] before a landowner agreement has been signed,' Al Manville, the FWS' senior wildlife biologist with the migratory bird division, said at a public wind information forum held April 16 in Falls Village, Conn.
'Unfortunately, right now in many cases, we find out about the development of a project through a news release or something on the evening news when we have not been consulted whatsoever, and that's frustrating,' he added.
While speaking at the forum, which was sponsored by the Berkshire-Litchfield Environmental Council, Manville outlined the FWS' draft wind guidelines as well as the agency's Draft Eagle Conservation Plan Guidance. The two documents, which were published in February, are close parallels, he said. They have also drawn considerable backlash from the wind industry.
The draft wind guidelines recommend a tiered risk-assessment process for selecting wind farm sites, including extensive pre- and post-construction monitoring activities that some argue will unduly delay project development. In creating its draft document, the FWS used as its framework recommendations that were submitted last year by the Wind Turbine Guidelines Advisory Committee (WTGAC), Manville said.
But the FWS document lacks support from the wind industry, the American Wind Energy Association (AWEA) says, because it deviates too substantially from the WTGAC guidelines. AWEA considers the WTGAC framework 'consensus recommendations' and is urging federal officials to adopt guidelines that more closely resemble what the committee had conceived.
The 22-member WTGAC, which includes representatives from the states, environmental conservation groups and tribes, was established by the U.S. Department of the Interior as part of the Federal Advisory Committee process.
However, Manville explains, the WTGAC recommendations were just that – recommendations.
'We have no requirement under the Federal Advisory Committee Act or the Administrative Procedures Act to use them,' he tells NAW. 'We used them as the baseline and the underpinning of our draft wind energy guidelines. It's the foundation for our guidance.'
For AWEA to have completely pulled its support for the FWS draft guidelines is unconstructive, according to Manville. 'AWEA's drawing a line in the sand really didn't help,' he says. 'Let's get some suggestions from AWEA and the individual companies on what they'd like to see and how to fix it.'
Manville notes that the FWS has worked closely with the electric utility industry to develop avian protection plans, coordinate public workshops and co-author suggested-practices documents. He says he hopes to similarly find common ground with stakeholders in the wind industry.
The FWS and WTGAC are slated to meet in advance of the May 19 public-comment deadline. Although Manville says he hopes all parties can find common ground, he concedes, 'I have the feeling it's going to be fairly ugly.'
The FWS' goal, he adds, is to create guidelines that are consistent with the agency's communication-tower and electric-utility guidelines.
'Our challenge is to work collaboratively with all the stakeholders here to minimize the impacts to wildlife in our habitat and to maximize opportunities for renewable energy development,' Manville said during the public forum in Falls Village.
The WTGAC recommendations failed to adequately address noise and habitat fragmentation issues, he explains, saying the latter consideration is particularly important. When it comes to wind development, habitat fragmentation may be a more significant concern for the conservation of some bird species than is mortality.
The FWS also says it has observed a disproportionate take of birds of conservation being killed at wind facilities. Although AWEA says the draft guidelines' monitoring requirements – up to three years of preconstruction monitoring and at least two years post-construction – will add 'unforeseen costs' to wind farms' operating budgets, Manville says such assessments are crucial to achieve a better understanding of commercial wind's impact on bird and bat populations.
Similar regimes are in existence elsewhere, he points out. The U.K. government's Department for Environment, Food and Rural Affairs, for example, calls for two to three years of preconstruction monitoring and three to five years of post-construction monitoring for offshore wind sites located in Crown waters.
To characterize the FWS' guidelines as requiring three years of preconstruction monitoring is inaccurate, Manville adds. The duration and intensity of pre- and post-construction monitoring should be linked directly with a project's level of risk and its likelihood of take.
A wind developer that is considering expanding a farm with an adjacent second-phase development should have already identified the site as 'low risk' to wildlife. In turn, a truncated preconstruction monitoring period – say, one season – might be appropriate, he says.
'The only primary tool we have now is siting wind facilities in the most wildlife- and habitat-friendly conditions,' he says. 'Admittedly, some companies are trying to do that. Others are completely blowing us off and not, and that's the rub.'
Some of the largest developers are playing ball. What concerns Manville, he says, are start-up companies that do not perform due diligence prior to buying property and building a wind farm. 'By the time problems are unveiled in post-construction monitoring, they've sold the facility,' he says.
It is unclear if other federal agencies will eventually put the FWS' guidelines into a regulatory regime, though Manville notes that both the FWS' final communications and utilities guidelines are voluntary in nature. This does not let developers off the hook if bird takes are discovered.
'Even though our guidelines are currently voluntary, and even if the final guidelines become voluntary too, there's still this whole issue that the Migratory Bird Treaty Act and the Bald and Golden Eagle Protection Act aren't wishy-washy – those are laws,' Manville says. 'If take occurs and you do not have a permit for take, including disturbance, you're in criminal liability and potential criminal culpability.'