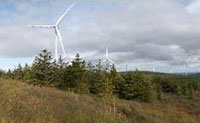 Coillte and energy company SSE PLC have jointly completedfinancing for EUR 176 million (approximately $191 million) for construction of the second and final stage of Galway Wind Park, located southwest of Oughterard, Ireland.
According to the companies, this financing deal is the largest ever for a single wind energy asset in Ireland.
With a total capacity of 169 MW, the project is set to be the country's biggest wind farm, the companies note. Phase 1, which entered construction in February 2015, is owned and financed by SSE. Phase 2 is a 50/50 joint venture between SSE and Coillte.
The project financing for the 105 MW Phase 2 stage has been provided by three mandated lead arranger banks: BBVA, Cooperatieve Rabobank UA and NORD/LB, which acted as the coordinating arranger.
Phase 2's construction will begin immediately and is expected to be completed in the third quarter of 2017. The wind farm will then be commissioned and begin commercial operations.
SSE's generation business will operate the wind farm, which will have the capacity to power 84,000 homes – equivalent to almost 90% of the homes in County Galway.