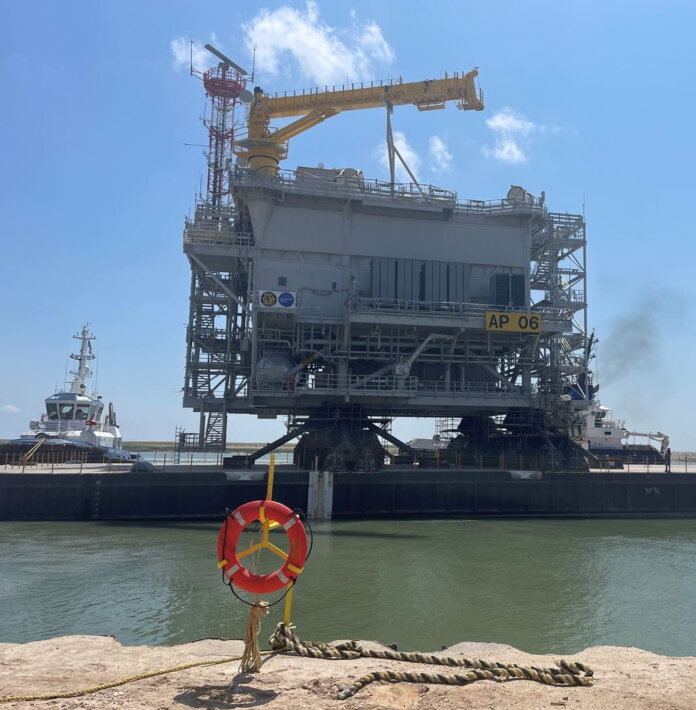 The first American-built offshore wind substation has departed its Texas fabrication facility on course toward its ultimate destination, the South Fork Wind project off Long Island, N.Y.
Kiewit Offshore Services Ltd., the largest offshore fabricator in the United States, designed and built the substation, which is transiting across the Gulf of Mexico and then up the East Coast for installation at the site in a few weeks.
Kiewit built the 1,500-ton, 60-foot-tall substation at its Ingleside facility near Corpus Christi, Texas. More than 350 workers across three states supported construction of the substation, a topside structure that will sit on a monopile foundation within the wind farm, collecting the power produced by wind turbines and connecting it to the grid.
"We're putting American ingenuity to work as we build out a domestic offshore wind energy supply chain with investments and job opportunities spanning the Northeast, down to Texas and across the Gulf Coast region," says David Hardy, CEO Americas at Ørsted. "The completion of South Fork Wind's offshore wind substation is yet another first for this groundbreaking project and moves us one step closer to the project's first 'steel in the water.'"
South Fork Wind is now in its offshore construction phase, first with work to install the project's 68-nautical mile submarine cable from its landfall below Wainscott Beach, in East Hampton, to the wind farm site roughly 35 miles east of Montauk, N.Y. In the coming weeks, monopile foundations will be installed. Vessels from several Gulf ports are supporting the work.
Expected to be operational by the end of 2023, South Fork Wind is on track to be the first completed utility-scale offshore wind farm in federal waters. The project will be New York's first offshore wind farm and will power approximately 70,000 New York homes.