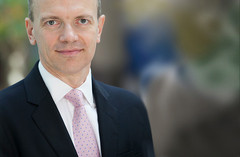 The European Wind Energy Association (EWEA) has appointed Giles Dickson its new CEO.
Before EWEA, Dickson was vice president of global public affairs at Alstom. Before that, he was a civil servant in the U.K. government for more than 15 years.
According to EWEA, Dickson brings substantial experience and knowledge of European energy and climate policies, having led negotiations on environment at the U.K. Permanent Representation in Brussels, Belgium.
'Wind is central to delivering the goals of the EU Energy Union,' Dickson says. 'The ongoing discussions on electricity markets, the governance of further renewables expansion and the reform of the emissions trading system are key to ensuring the wind industry can play its part. Meanwhile, the Paris climate summit will see increased ambition on renewables around the world with new opportunities for a vibrant European wind industry.'