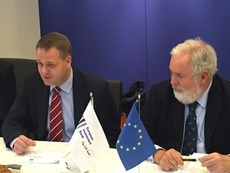 The European Investment Bank (EIB), Mirova and Eolus are co-investing in the construction of the Langmarken onshore wind farm, located in Värmland County, Sweden. This is the first EIB project in Sweden under the European Fund for Strategic Investments (EFSI), at the heart of the Juncker Commission's Investment Plan for Europe.
The EIB and Mirova-Eurofideme 3 have signed an agreement to acquire the Langmarken wind project. They will own, through a common vehicle, 90% of the shares, while Eolus will retain the remaining 10%. Eolus, one of the leading wind power developers in the Nordics, will build and manage this 20 MW ready-to-build wind farm.
The EIB co-investment of up to EUR 16 million is the first renewable energy co-investment made by the EIB through the EFSI, and at the same time, it is the first EIB project in Sweden supported under the Investment Plan for Europe. This co-investment will be undertaken and managed by Mirova, following the commitment made by the EIB in the Mirova-Eurofideme 3 fund in 2014 – mobilizing capital to achieve a low-carbon economy.
The transaction includes six Vestas V126-3.3 MW wind turbines out of an eight-turbine project total. The City of Malmö and the local Kalmar County Council have acquired the two remaining turbines. The project is fully permitted, and its construction started in January. It will be connected to the national grid through a local substation operated by Kristinehamns Energi AB, and commissioning is targeted for the first quarter of 2017.
"We are glad to cooperate with Mirova and support the Langmarken wind project, as it will contribute to the achievement of European and Swedish targets for renewable energy generation and CO2 emissions reduction," says Jan Vapaavuori, EIB vice president of Sweden. "This first EIB project in Sweden under the Investment Plan for Europe is only a start of the EFSI rollout in this country, within which we have been developing new financial products aiming to extend the EIB's risk capacity and market reach."