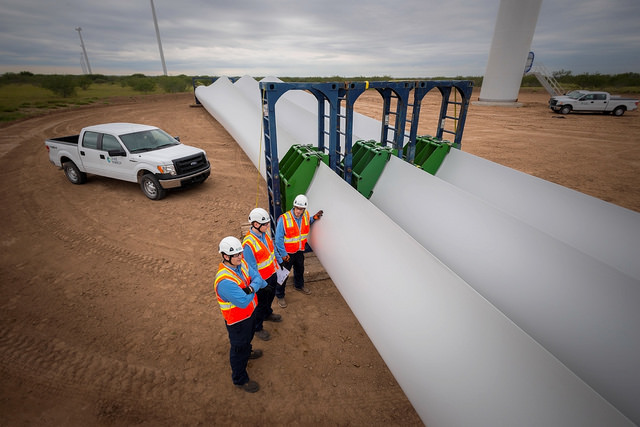 The 426th turbine of the Los Vientos wind power projects is now spinning and serving customers near the Rio Grande in Starr County, Texas.
It marks Duke Energy Renewables' completion of Los Vientos IV, the last of the five wind projects in the area to begin operation.
Austin Energy is purchasing the power and associated renewable energy credits from the 200 MW Los Vientos IV under a 25-year agreement. The utility's total output purchased from Duke Energy Renewables now totals more than 665 MW.
"Four years ago, we first began capturing the winds off the gulf with Los Vientos I and II in Willacy County," says Rob Caldwell, president of Duke Energy Renewables and Distributed Energy Technology. "Since then, we've brought three other Los Vientos wind projects online, delivering 900 MW of clean energy to South Texas."
Duke Energy Renewables says it has now installed more than 1.5 GW of wind power in Texas – more than double its owned wind capacity in other states combined.
Los Vientos IV was constructed by Wanzek Construction, and Amshore US Wind provided development support. Vestas, which supplied 100 V110-2.0 MW turbines, will service the project under a three-year operations and maintenance agreement.
"With the turbines installed at Los Vientos IV, Vestas crossed a historic milestone – 75 GW installed in 75 countries," notes Chris Brown, president of Vestas' sales and service division in the U.S. and Canada.