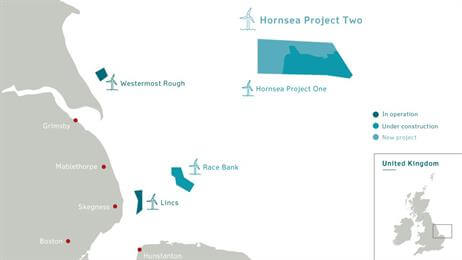 DONG Energy has been awarded a contract to build its Hornsea Project Two offshore wind farm at the lowest-ever price for offshore wind in the U.K., according to the company.
At 57.50 British pounds/MWh (approximately $76.32/MWh), the strike price for the contract for difference (CfD) was 50% lower than that of the previous round of CfD allocations just two years ago, says DONG Energy. The CfD is a 15-year contract that will be indexed for inflation. After 15 years, Hornsea Project Two will receive the market price for electricity.
With a massive capacity of 1,386 MW – enough to power over 1.3 million U.K. homes – Hornsea Project Two will become the world's biggest wind farm; it will even surpass the 1,200 MW Hornsea Project One, which DONG Energy is currently constructing.
Hornsea Project Two, to be built 89 kilometers from the Yorkshire coast, is expected to be operational in 2022. It will contribute significantly to DONG Energy's goal of reaching a total offshore wind capacity of 11-12 GW by 2025. The company says it has also started the consultation process for Hornsea Project Three.
"This is a breakthrough moment for offshore wind in the U.K. and a massive step forward for the industry," says Matthew Wright, managing director for DONG Energy U.K. "Not only will Hornsea Project Two provide low-cost, clean energy to the U.K., it will also deliver high-quality jobs and another huge boost to the U.K. supply chain."